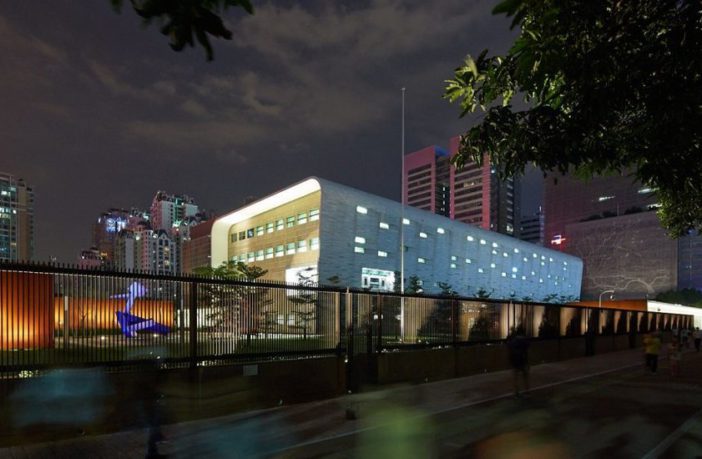 First Cuba, Now China? An American Falls Ill After 'Abnormal' Sounds
By Editor May 23, 2018 No Comments
First Cuba, Now China? An American Falls Ill After 'Abnormal' Sounds
The United States Consulate in Guangzhou, China. The State Department said a government employee posted in the city had reported "subtle and vague, but abnormal, sensations of sound and pressure." U.S. Department of State
http://www.theeventchronicle.com/news/asia/first-cuba-now-china-an-american-falls-ill-after-abnormal-sounds-2/
By Chris Buckley
BEIJING — An American government employee posted in southern China has signs of possible brain injury after reporting disturbing sounds and sensations, the State Department said on Wednesday, in events that seemed to draw parallels with mysterious ailments that struck American diplomats in Cuba.
The State Department warning, issued through the United States Consulate in Guangzhou, a city in southern China, advised American citizens in China to seek medical help if they felt similar symptoms. But it said that no other cases had been reported.
"A U.S. government employee in China recently reported subtle and vague, but abnormal, sensations of sound and pressure," the health alert said. "We do not currently know what caused the reported symptoms and we are not aware of any similar situations in China, either inside or outside of the diplomatic community."
The employee was working in Guangzhou, and "reported experiencing a variety of physical symptoms" from late 2017 until April, Jinnie Lee, a spokeswoman for the United States Embassy in Beijing, said in an emailed response to questions.
On Friday, "the embassy was told that the clinical findings of this evaluation matched mild traumatic brain injury," Ms. Lee said. She said she could not reveal any more details to protect the employee's privacy. Mild traumatic brain injury can show up as headache, dizziness, nausea, poor memory and a general foggy sensation.
The State Department "is taking this incident very seriously and is working to determine the cause and impact of the incident," Ms. Lee said. "The Chinese government has assured us they are also investigating and taking appropriate measures."
The Chinese Ministry of Foreign Affairs did not immediately answer faxed questions about the ill American.
The American statements did not say that officials suspected any foul play by the Chinese authorities. Even so, if the illness remains unsolved, it could become a complicating irritant at a time when Beijing and Washington are already embroiled in tensions over trade and investment, and when American distrust of China is growing on many fronts.
The echoes of the burst of illnesses suffered by American diplomats in Cuba may add to those complications.
Starting in late 2016, diplomats posted to the United States Embassy in Havana began complaining of hearing strange, wrenching noises and suffering symptoms like headaches, dizziness and loss of hearing. A total of 24 Americans were confirmed as suffering from the attacks, most of them diplomats and some diplomats' spouses.
The cause of the illnesses in Cuba has not been confirmed, but American suspicions that the Cuban government was behind them, or at least knew who was, have added to a sharp deterioration in ties under the Trump administration. The United States has expelled at least 17 Cuban diplomats to underscore its view that Cuba bears some responsibility.
But the Cuban government has denied any role, and experts have sharply disagreed over the likely cause of the illnesses. Some have said they probably resulted from sonic equipment that was deliberately or accidentally set to emit damaging sounds. Others have said that the cases were probably the result of psychological suggestion.
"The most challenging factor is the lack of certainty about the causative agent and, therefore, the precise mechanism of the injuries suffered," Charles Rosenfarb, the medical director of the State Department's Bureau of Medical Services, told lawmakers investigating the illnesses.
About 2,000 employees of the United States government are posted in China, said Ms. Lee, the embassy spokeswoman. Diplomats based in the country are probably among the most closely watched by Chinese security services.
But it is unclear what might drive Chinese agents to risk inflicting brain injury on an American government employee, especially in a heavily commercial posting like Guangzhou, which is 1,200 miles south of Beijing. The United States Consulate there is housed in a secure, boxlike building that was opened in 2013.
The Global Times, a Beijing newspaper that often gives strident voice to the Chinese government's views, said in an online editorial that the notion that China would attack foreign government personnel was "totally preposterous."
"We're very sure that the 'brain injury' to the American consulate employee can't possibly have any 'background,'" the editorial said. "There should be repeated screening for individual health causes, including psychological causes."
Still, the State Department was not taking chances.
"While in China, if you experience any unusual acute auditory or sensory phenomena accompanied by unusual sounds or piercing noises, do not attempt to locate their source," the notice from the consulate said. "Instead, move to a location where the sounds are not present."
Keith Bradsher contributed reporting from Hong Kong. Karoline Kan contributed research from Beijing.