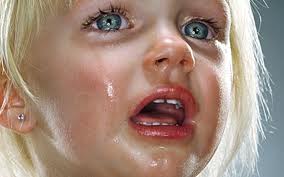 By common sense
http://beforeitsnews.com/conspiracy-theories/2018/06/major-tucson-sex-trafficking-camp-ties-to-clinton-foundationrothschild-and-the-ex-president-of-mexicos-son-2491595.html
Major Tucson Sex Trafficking Camp – Ties to Clinton Foundation, Rothschild and the Ex-President of Mexico's Son
Monday, June 4, 2018 8:11
Major Tucson Sex Trafficking Camp – Ties to Clinton Foundation, Rothschild and the Ex-President of Mexico's Son
The most despicable crime on the face of the earth is child sex trafficking and the global elite are involved in controlling the industry in every country. This is a byproduct of Agenda 21. This report is not for everyone to view. It is horrific, particularly the 10 minutes of video that you will be referred to.
Emigrate While You Still Can! Learn More…
Word is spreading like wildfire across Arizona. I have about 20 emails advising me of sex trafficking camps being discovered in the Tucson area along the I-19 corridor and Valencia.
The MSM is totally ignoring the story, despite overwhelming evidence to substantiate the claims and the Independent is still largely unaware of this heinous discovery in Southern Arizona.
The following is a typical email of what I am receiving.
Hello Dave
…. I came across this article video. Titus frost on his channel… About how the Arizona State Patrol and Tucson Police will not help gather up child traffickers and drug trafficking.. you would have to watch this video posted 9 hours ago to see what's going on down in Arizona… Titus Frost in the video titled operation Backyard Brawl… Please investigate… Thank you
EYEWITNESS ACCOUNT'
The following is an eyewitness account of an individual who purports to have been to one of the camps along I-19 and Valencia.
The camp was discovered by a group associated with VOP. VOP is a group that patrols the streets and tries to rescue veterans who are homeless, drug addicted or impaired in some fashion. The VOP associated with reporting on this Sex-Trafficking camp, where children are ostensibly used and murdered, has stated that they happened, by chance, into the discovery of this camp, from INTEL gathered from their street operations in the search for veterans at the camp site when evidence was found that implicated the site as a child-sex trafficking site.
You may find it useful, if you have touchscreen to enlarge the following to read. If you are unable to do so, I will summarize the content below the following statement.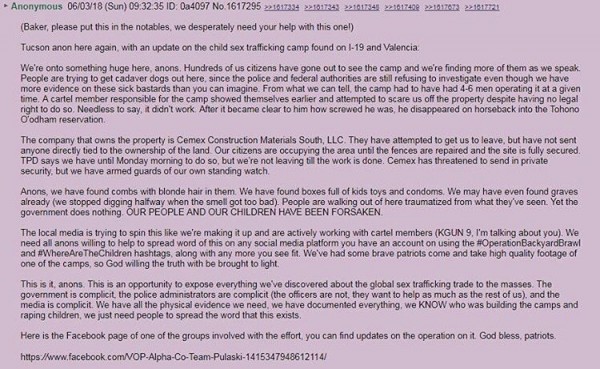 I am experiencing trouble getting many people to go on the record, although I have accessed a 3 hour video on this subject which I will reference later in this article.
I realize that some of you will not be able to enlarge your computer screen to read the account regarding the sex camp. Therefore, please allow me to summarize the events detailed in the above publication, which was admittedly produced in small print:
The VOP has found combs with blond hair.
There are boxes with chilren's toys and next to the toys are used condoms.
Graves have been discovered. VOP anon said they stopped digging when the smell got so bad they had to stop. They need to resume the digging. Buy some gas masks and continue the work! VOP is asking for assistance with regard to getting cadaver dogs to come to the site.
KGUN television in Tucson is mocking the reports of the VOP.
The Tucson Police and the FBI refuse to come to the scene where the crime scene evidence was located.
The property in question is owned by Cemex Construction Materials South LLC (more on the company and their associates later in the article).
The Tucson Police has given VOP until Monday (today, June 4, 2018) to vacate the premises. Could this be another Bundy Ranch standoff? The VOP says they are not leaving until their work is done. Cemex has threatened to bring their own private security to remove VOP. VOP has stated that they are not leaving until the breaches in the fences are repaired so the property can be sealed off.
I have seen video of restraints embedded in trees along with bone cutting saws and a Playboy magazine nearby, along with condoms. You will see a video reference to this fact in which the readers will have to link to because the video is not public for undisclosed reasons. If they are trying to conceal this report from YouTube censorship, YT will discover this, take down the video and terminate the channel.
Therefore, I do not expect this video to be available much longer and you will be forced to depend on the eyewitness accounts of people, like myself, who have seen it, all of it. And I am warning you, not everyone should see this video. Even the most hardened person will have trouble viewing this material.
Here is the link to the video. If you think you have the stomach to see the restraints on the trees and the Playboy magazine, you can link to it here and go the 1:52:00 – 2:02:00 mark.
From: VOP Alpha Co – Team Pulaski
June 2 at 1:01pm ·
SHARE WITH ALL TUCSON NEWS OUTLETS… In order to provide opportunity for full transparency… the dismantling of the Child Sex Camp is being postponed for 5 hrs. Come out before then.
Camp will be dismantled with prison cell, all children's items, all physical evidence of human trafficking, receipts with dates, and bags of human waste collected and delivered to DHS once catagoring is completed Monday afternoon.
We are demanding a full investigation into Cemex, the Builder, and the Child Sex Trafficking.
We are also demanding an investigation related to the accusation that we staged this. We will fully cooperate.
You don't have to trust that we are being honest, you have to trust God who remains 2 moves from Checkmate.
#DoingItRight
Image may contain: text
The post is readable and very clear. However, we have another post from a source at the scene that will require you to enlarge the text. And, again, if you cannot, I will summarize the content. This is very damaging content. The following contains a trace of Cemex's associations and history.
The Mayor Tucson is implicated by name (ie Rothschild). The Illuminati is implicated. The Federal Government is implicated and their has been at least one Federal investigation into Cemex, according to Reuters. The following is worth the time and effort to decipher.

Summary of the above mentioned content:
The land in question is owned by Cemex and they are a partner of the Clinton Global Initiative.
Cemex is linked to Haiti through the Clinton Foundation.
The report states that Cemex is a $100 million donor to the Clinton Foundation (Editor's Note: One has to wonder if this payment was a pay for play? Read on because this speculation will make more sense).
Cemex is also owned by Bronfman-Rothschild. That would central banking head.
Sara Bronfman's husband became the head of Libya-SA trade initiative after the Clinton/Obama led overthrow of Ghadaffi.
Cemex is under a US DOJ investigation according to a March 14, 2018 Reuters article.
The investigation comes after the company said in December that the Securities Exchange Commission (SEC) had asked it for information to determine whether it violated the Foreign Corrupt Practices Act in the construction of a new plant in Colombia. Editor's Note: It is not clear what they are under investigation for. It is not clear what this "plant" in Colombia is all about. Is it tied to child-sex-trafficking? That question cannot be answered at this time because there is a media blackout on this investigation except for a brief update on May 18th by the Wall Street Journal. However, the articles did not reveal anything significant related to the specific crimes.
Emillano Salinas is the son of the former President of Mexico.
Salinas is an ex-member of NXIVM, the nasty Hollywood cartel with sex trafficking ties. You may recall that former Smallville actress Allison Mack who had self-admitted involvement in the controversial NXIVM organization.
Salinas worked for Lazard Investments. Lazard Investments is connected to George Soros.
Jonathan Rothschild is the Mayor of Tucson.
I have known for years that the Pima County Sheriff is controlled by the Rothschild-Greenberg cartel.
Conclusion
There is no conclusion to this story, I am just getting started. I invite my associates in the Independent Media to join me in exposing this heinous activity. Stay tuned, information is flooding in.
We encourage you to Share our Reports, Analyses, Breaking News and Videos. Simply Click your Favorite Social Media Button and Share.