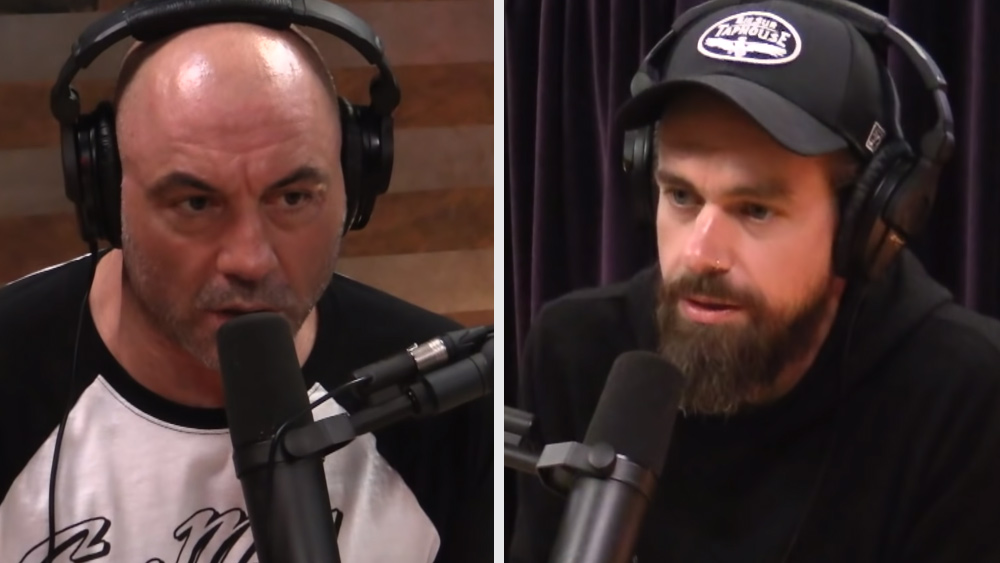 Image: ALERT: Twitter blocks all Natural News / Health Ranger channels after Adams comments on the Jack Dorsey / Joe Rogan Bitcoin fraud
Thursday, February 07, 2019 by: Mike Adams
https://www.naturalnews.com/2019-02-07-twitter-blocks-all-natural-news-health-ranger-channels-joe-rogan-jack-dorsey-bitcoin.html
(Natural News) Mere hours after I appeared on the Alex Jones Show yesterday to reveal the truth about Jack Dorsey's criminal fronting for Bitcoin and deep state money laundering, Twitter suspended all Health Ranger / Natural News accounts without explanation, simultaneously, mere hours after my appearance on Alex's show.
Importantly, the Health Ranger Twitter account (twitter.com/healthranger) tweets news stories that are more than 95% focused on health, nutrition, medicine, food science and similar topics. There is absolutely nothing in the HealthRanger twitter feed that could justify being banned by Twitter. It's clear this censorship order came from the top and was initiated to punish me for appearing on the Alex Jones Show.
As I mentioned on the show (see video below), Jack Dorsey, CEO of Twitter, recently appeared on the Joe Rogan Experience, hyping Bitcoin as the currency that would take over the internet. According to Hacked.com, Joe Rogan is being paid off to the tune of $300,000 per month via the Cash mobile app — owned by Twitter, of course.
During the Joe Rogan interview, Joe utterly failed to ask Dorsey any tough questions at all, and the entire interview turned into an apparent fraud fest of "pump and dump" front men (Dorsey and Rogan) pushing a massive crypto scheme onto Rogan's listeners, utterly without disclosing the severe conflicts of interest held by both Rogan and Dorsey. "In a version of what could have been an SEC enforcer's wet-dream, we have the CEO of a Bitcoin-specific payment app talking up the potential of Bitcoin, on a podcast which he also pays to advertise said payment app," reports Hacked.com.
What Dorsey and Rogan also failed to mention is that Jack Dorsey is an investor in the Lightning Labs project that's working to push a new protocol onto Bitcoin. Thus, Dorsey has a huge financial stake in the future success of Bitcoin. As I pointed out in my interview, Bitcoin is a creation of the deep state that is used to surreptitiously transmit payoffs and bribes to left-wing Democrats, for example, who are being bribed by Mexican drug cartels to oppose the border wall.
Apparently, Jack Dorsey does not want any independent journalist talking about the criminal dark side of Bitcoin, since he's pumping it up with the help of (paid off) Rogan.
In banning Natural News / Health Ranger accounts, Twitter did not cite any reason at all, utterly failing to points out any tweets that violated Twitter community guidelines. It's clear that Natural News / Health Ranger Twitter accounts were banned solely because Adams appeared on the Alex Jones Show and dared to comment on the Joe Rogan / Jack Dorsey Bitcoin fraud.
Watch the full episode in this Brighteon video. I join Alex at 38:18, and the comments on Jack Dorsey and Joe Rogan take place a few minutes later:
https://www.brighteon.com/embed/5999398886001
Brighteon.com/5999398886001
Joe Rogan and Jack Dorsey appear to be running a massive financial fraud scheme and using censorship to silence whistleblowers
What's clear in my mind from recent events is that Joe Rogan and Jack Dorsey are running a massive crypto fraud scheme while using the power of censorship to silence whistleblowers who are exposing their giant con. As Hacked.com reports:
Criticism of the Bitcoin core narrative was being censored on Reddit long before the hammer fell on the likes of Alex Jones. Dorsey's vision of a future Bitcoin-dominated internet doesn't address this point; and it's a point that only seems more scandalous in light of Twitter's similar predilection for censoring those who deviate from accepted scripts.
Jack Dorsey is just one of many tech giant CEOs that has now turned to the tyranny of censorship to silence critics for off-platform behavior. Twitter has not cited any violations of community guidelines as justification for suspending the Natural News / Health Ranger accounts. Instead, the actions were taken solely due to my appearance on the Alex Jones Show.
I think Jack Dorsey is running a massive financial fraud scheme, and he's paying off people like Joe Rogan to shill for his crypto profit schemes while selectively silencing anyone who might raise legitimate questions about the dishonesty and deception of his entire operation.
As more and more people are now noticing, the tech giants that dominate the world are now quite literally being run by financial fraudsters and censorship goons who despise freedom of expression precisely because independent journalists are exposing their frauds and cons. Any independent journalist who attempts to warn the public and expose the truth about the massive Bitcoin crypto con is targeted for selective censorship and defamation. Meanwhile, techno-schemers like Dorsey funnel money to front men like Joe Rogan to keep pushing the propaganda that hypes up their personal enrichment Ponzi schemes.
It's sick. It's even criminal, according to SEC rules. When will the SEC raid the offices of Jack Dorsey and Joe Rogan and charge them with securities violations for pushing a massive financial fraud, completely absent any honest financial disclosures are required by regulatory authorities? If Rogan and Dorsey were pumping Wall Street stocks in the same manner, they would have already been arrested and charged with securities fraud. Why do they get a free pass when they're pumping the very same crypto con that has already caused innocent participants around the world to lose hundreds of millions of dollars?
Read more about the Bitcoin crypto fraud at Bitraped.com and check out important news on the evil of the tech giants at TechGiants.news. Read Natural News for updates on whether Twitter decides to reinstate our channels or ban us permanently, utterly without any legitimate reason.
Watch more here about why the people of Earth must declare war on the tech giants and defeat them like we defeated the Third Reich:
https://www.brighteon.com/embed/5999237695001
Brighteon.com/5999237695001