A cozy alliance between insurers and law enforcement has turned the justice system into the industry's hired gun and left innocent customers facing prison.

Posted on August 15, 2019 at 9:49 am
https://www.buzzfeednews.com/article/kendalltaggart/insurance-fraud-erie-state-farm-farmers?fbclid=IwAR1yo8jBgF2OxrH550K71uE4nfUiuRKmPhF7_mPdVcF3NCuJdnGpgk4utu0
Reposted here, under the Fair Use Doctrine

When police showed up at Harry Schmidt's home on the outskirts of Pittsburgh, he thought they were there to help. He was still mourning the disappearance of the beloved forest green Ford F-150 pickup that he'd customized with a gun storage cabinet, and he hoped the cops had solved the crime.
Instead, the officers accused him of faking the theft. The Vietnam veteran was now facing up to seven years in prison.
Schmidt was stunned, but he was even more upset when he found out who had turned him in.
Erie Insurance, one of the nation's largest auto insurers, had not only provided the cops with evidence against its own loyal customer — it had actively worked with them to try to convict him of insurance fraud.
Erie had even paid part of the salary of the lead detective who knocked on Schmidt's door that day, as well as that of the prosecutor who went on to charge him with felony insurance fraud. And it would also secretly cover the costs of an expert witness to testify against Schmidt in court.
Schmidt, a grandfather living on disability benefits from his war-related injuries, had no history of theft or fraud. But he found himself the target of an extraordinary alliance between private insurers and public law enforcement agencies — one that transforms routine claims into criminal evidence, premium-paying customers into suspects, and the justice system into a hired gun for a multibillion-dollar industry. It's an arrangement essentially unheard of in other businesses, and one rife with potential conflicts of interest, as well as grave consequences for law-abiding customers.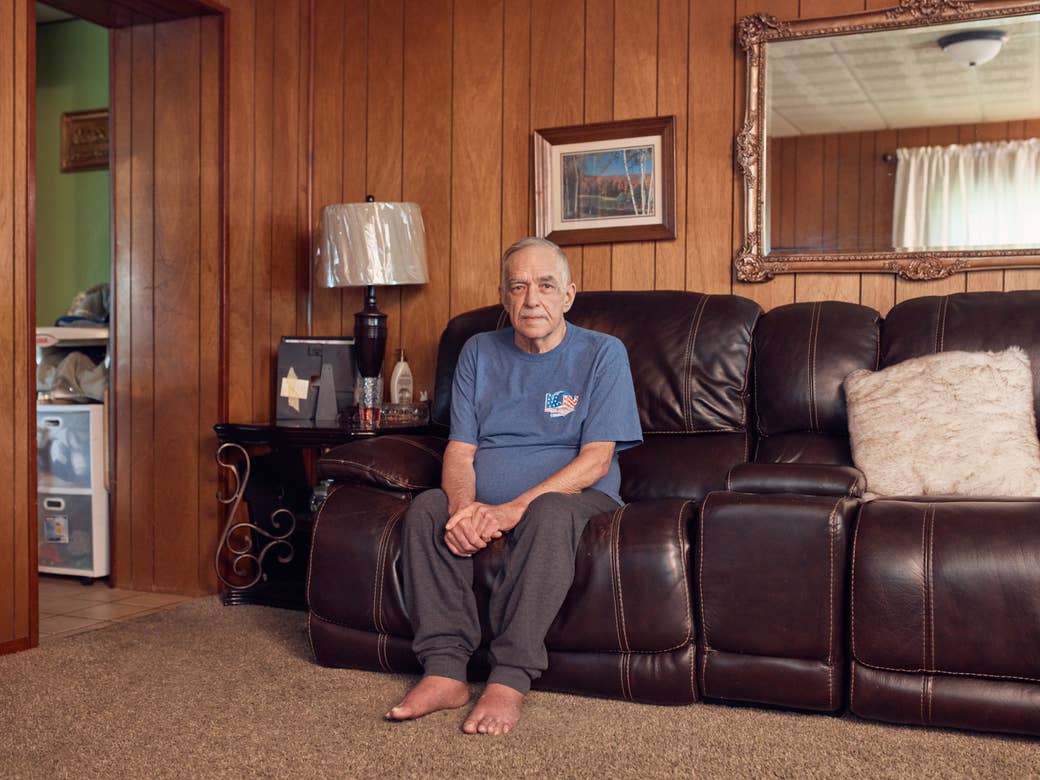 "It made me really feel like the law is nothing but another racket," said Schmidt, who said he had to sell many of his possessions to cover his mounting legal bills and stay out of prison.
A BuzzFeed News investigation has found that Erie, State Farm, Farmers, and other giant home and auto insurers around the country have co-opted law enforcement to intimidate and prosecute their own customers — tactics that can help companies boost their profits and avoid paying claims.
Insurance companies provide financial incentives to scores of police departments, prosecutors, and other public agencies to encourage them to focus on insurance fraud, a crime that has traditionally not been a priority for local law enforcement. In some cases, insurance giants even cover the salaries of dedicated prosecutors, detectives, and investigators whose caseloads consist primarily of referrals from those same companies.
The result is that dozens of premium-paying customers across the United States have faced jail for doing nothing more than filing insurance claims for damages to their property.
State Farm and Farmers Insurance both declined to comment on their companies' fraud-fighting tactics.
"It made me really feel like the law is nothing but another racket."
David Rioux, vice president of special investigations for Erie Insurance, said only a small percentage of claims were flagged as potentially suspicious and that he wasn't aware of any instances where the company had falsely accused someone of fraud. He declined to comment on specific cases, but said the company follows laws requiring it to report fraud to law enforcement and it's up to those agencies to decide whether to bring criminal charges.
BuzzFeed News examined 27 cases around the country in which people were falsely charged with felonies based in whole or in part on evidence insurers provided to law enforcement. In Indiana, State Farm helped detectives craft an arrest warrant for a contractor who was charged with 14 felonies. All charges were ultimately dropped when the evidence turned out to be deeply misleading — but not before the insurance giant's allegations had destroyed his business. In Georgia, a local prosecutor relied on lab tests provided by an insurer to charge a woman with arson, resulting in a three-year ordeal in which she ended up homeless, only to drop the charges when the test results proved unreliable. And in Wisconsin, a man spent nearly three years in prison based on now-discredited science used by an insurance investigator until his conviction was overturned.
In these and other instances, law enforcement agencies have outsourced the hard work and substantial expense of building insurance fraud cases to the industry itself — relying heavily on evidence produced by insurers to prosecute their customers. But those insurers have a strong financial stake in the outcome: Criminal charges help bolster a company's decision not to pay a claim, and serve as a powerful disincentive for others to file claims of their own.
Got a tip? You can email tips@buzzfeed.com.To learn how to reach us securely, go to tips.buzzfeed.com.
That has led to a culture inside some insurance companies where customers are viewed with suspicion and investigators have been observed openly celebrating when they manage to get them arrested, according to interviews with former employees. In an email reviewed by BuzzFeed News, for example, one of State Farm's star fraud investigators celebrated one such arrest by circulating a stick figure drawing depicting the man — who it later turned out had been wrongly accused — being raped in prison.
It's impossible to say how often innocent customers are the victims of false charges, because much of the potential evidence is hidden from public view by the companies themselves. In one case, investigators at State Farm withheld several crucial reports contradicting their fraud allegations from the bundle of evidence they handed over the law enforcement. In another, a Farmers manager admitted under oath that there was an "unwritten policy" within the company to withhold evidence from customers that could help prove their innocence.
Policyholders, meanwhile, often find it difficult and expensive to fight back, leading many to walk away from claims or face pressure to take plea deals for crimes they didn't commit. And even those individuals who are able to successfully bring lawsuits against insurers are usually obliged to sign confidentiality provisions as part of the terms of any settlement, making it difficult if not impossible for others to find out what happened.
But by reviewing hundreds of court records from around the country, complaints filed with state regulators, and internal company records, and interviewing dozens of former insurance company employees, BuzzFeed News uncovered a system that has ensnared countless innocent people.
In Florida alone, state law enforcement received roughly 14,500 suspected fraud referrals about homeowners and vehicle claims in the past five years — the vast majority of them from insurance companies. Yet authorities determined that in more than 75% of the cases, there was not enough evidence to move forward with a criminal investigation. And regardless of whether fraud accusations turn out to be false, many sit in databases shared among insurers, where they can haunt people if they ever have to file another insurance claim.
These tactics can be applied with impunity, thanks to legislation in all 50 states restricting the ability of customers to sue insurers for wrongly accusing them of fraud — unless the customers can prove the allegations were malicious or made in bad faith.
The legislation was crafted with help from insurers, which worked to get versions of it passed across the country.
"The whole system got corrupted."
But critics say that the way the law has been implemented favors insurance companies' commercial interests while failing to provide adequate protections for innocent people.
"The whole system got corrupted," said Tim Ryles, former Georgia insurance commissioner and chair of the National Association of Insurance Commissioners Antifraud Committee, who helped pass a version of the legislation.
Insurance fraud is a real problem. Entire organized crime rings are dedicated to staging accidents in order to collect insurance money, for example, and industry groups say phony claims cost insurers billions of dollars a year, much of which is passed along to customers in increased premiums.
Insurers say that funding police and prosecutors, and referring criminal cases to them, is critical to efforts to root out fraud, since many law enforcement agencies lack the resources or expertise to bring complicated cases.
These efforts to fight phony claims have netted insurers at least a sevenfold return on investment since the '90s, according to the Coalition Against Insurance Fraud, a nonprofit that receives most of its funding from insurance companies.
That yields a real benefit for policyholders by helping keep rates down, said Dennis Jay, the coalition's executive director. "Bottom line is that insurers that hurt innocent consumers should be punished severely," Jay said.
But for people like Schmidt — and other victims of false accusations — the system seems crafted to benefit only the billion-dollar insurance companies and their investors.