Turn Them Off! #QAnon and the collapse of #FakeNews media
By Editor August 8, 2018 1 Comment
Share
http://www.theeventchronicle.com/intel/turn-them-off-qanon-and-the-collapse-of-fakenews-media-2/
The scientist is not a person who gives the right answers, he is one who asks the right questions.
Claude Lévi-Strauss
By Martin Geddes
We are at war. Until now it has been a shadow conflict, conducted largely out of sight of the public. In the last few weeks it has begun to unmistakably break through into the open. There is nothing else in the tech-telecom world that comes close to it in importance, which is why I write about it in preference to everything else. To pretend otherwise would be a dishonourable act of omission.
This war is for the most important territory on the planet: your mind and spirit. It is a real war, being conducted by the formal military against a highly organised opponent. The enemy is not a foreign country, but instead comprises traitors and criminals in our midst. Whilst it has a traditional kinetic component — bombs, lasers and drones — its defining weapons are memetic. Surveillance, counter-intelligence and propaganda are the new longbows, armour and missiles.
Longstanding readers will know that I am not stupid or silly. Being human, I have the occasional foolishness or misadventure, but my intellect and integrity are both fully intact. There is a good reason why I am forcefully presenting things that may make you feel uncomfortable: there is going to be no way of avoiding these matters in the very near future. Everyone is going to be confronted with diametrically opposing narratives, and will have to make a choice over which one to believe and act upon.
You are likely to have seen one of the many articles in the mainstream media in the past week on #QAnon. Each one of them warns you of how this is a "dark", "right-wing" and "dangerous" movement. The loaded term "conspiracy theory" is used over and over, warning you of the shameful and fearful social consequences of being associated with this movement.
My position is well known: Q is instead a military operation by "white hats"against the corrupt and criminal "deep state", being led by the NSA and Marines. The mass media has been infiltrated and compromised for decades, being used as a tool of social control. The #QAnon programme is a fifth-generation warfare technique to destroy the credibility and power of the #FakeNews media.
This has come to a head because at the Tampa rally, Trump supporters were allowed to bring in placards, which are usually banned for safety and security reasons. Many of them included messages about Q and WWG1WGA. This forced the hand of the media to cover the story, since further ignoring it would be such a telling silence that it could awaken the sleeping masses.
Here are some questions I would like you to ponder, so you can decide for yourself which way the truth might lie.
1. Why has not a single one of these media organisations asked President Trump whether Q is legitimate, since this would immediately resolve the matter for everyone? How do you account for this journalistic lapse in elementary data gathering before publishing a story slurring such a large group of ordinary people?
2. Why do they not cite or rebut Q's drops, as would be normal journalistic practise in disproving something of factual debate? If they are self-evidently false, this should be trivially easy. Why do you think they refuse to engage on the facts, but offer emotive innuendo in its place?
3. Why is there no mention of the 45,000 sealed indictments (50x growth over normal), signifying impending mass arrests? This is a matter of public fact and record — as are the unprecedented CEO resignations (very few being rehired…) and politicians withdrawing from office. What's your hypothesis for this omission?
4. Why is there no concomitant coverage of the significant increases (5x over past) in arrests and convictions for human trafficking and child pornography, yet there are constant protestations that widespread "elite" paedophilia (aka "pizzagate") is a "debunked" matter? The press coverage of the sensational NXIVM cult trial — implicating those close to the Clinton Foundation with child sex slavery — is spectacularly muted. How do you account for this silence, given what Q tells us?
5. Why are the dozens and dozens of strong links between Q and the Trump administration given no credence? (Here are 45 for you to begin with — this would easily get you beyond the standard of proof for a court case.) Q encourages people to think for themselves, whereas you are being told by the MSM what to believe and ignore the evidence in front of your own eyes. How do you make sense of this data not being presented to you?
6. How come none of these organisations deemed #QAnon newsworthy before the Tampa rally, yet it is a movement that is suddenly threatening to the wellbeing of democracy and society? How do you account for this timing and the coordinated message using identical terminology? (Although apparently following Q is simultaneously "fringe" and "wildly popular"!)
7. These same organisations overwhelmingly supported Hillary Clinton for President, and wrongly predicted her win right up until the last minute. They have widespread and documented links to the Democratic party, both legitimate (as donors) and illegitimate (illegal and unethical relationships documented by Wikileaks). Are they dispassionate reporters of fact, or active players in the political game attempting to shape the narrative? How might it affect their reporting on Q?
8. Given that these media reports make many basic factual errors, are they credible journalism? Here's one (from the Guardian):
Turn Them Off! #QAnon and the collapse of #FakeNews media
Q has never posted on Reddit. Does this suggest familiarity with the subject matter, or profound ignorance?
You are very soon going to have to decide whether these media organisations are involved in transnational criminal racketeering, and collusion with mafia-like entities embedded into government. It will only take a single tweet from President Trump — flagged up by one of Q's first messages — to end the debate. This single message would destroy all these yellow journalists, forever:
This would explicitly confirm that Q is an agent of the Trump administration. At that point every single damning article about Q as a "conspiracy theory" becomes a perpetual condemnation of its author and publisher. Such confirmation could come in many other forms — this being just one possibility. The #FakeNews media trap has been set by Q, the bait has now been taken, and the gory denouement is approaching.
That moment of reckoning is inevitable, even if I cannot predict when: today, this week, this month, or even later in the autumn. It is a "slow walk" leading up to the US mid-term elections, and you never reveal your plans to the enemy in advance. The worst will doubtless be revealed close to that November date for maximum destructive impact. The #FakeNews media is being given adequate time to manufacture the rope by which it will send itself to the gallows of infamy.
I believe that you are seeing a carefully scripted military operation play out. The mass media's audience is an active part of the direction of the play. In this spiritual fight against evil masquerading as virtue, everybody is on the information warfare battlefield, like it or not. The next few weeks and months promise to be quite a ride. As Q has stated 28 times so far: "enjoy the show".
This is not a game, it is the real deal. You have a responsibility to yourself and your family to make good choices. Consider my questions very carefully. Imagine how criminals working to usurp your freedom and security would act if they controlled the mass media. Who do you think is telling the truth, when nobody else tells you what to believe?
Listen to your heart for the answers, for it cannot ever lie.
Legitimate journalism, or mafia media threat against free-thinking patriots who resist their social and mind control techniques?
Related content
You may also enjoy the following related content that I have produced.
WWG1WGA: The greatest communications event in history—50,000 readers can't all be wrong!
The silence of the sheep — giving hard evidence the media isn't telling you the whole story.
The Great Awakening: Its impact on the tech industry — an introduction to the idea "something big is happening all around us".
Making sense of #QAnon and #TheStorm — title speaks for itself — with the follow-up of Q is Military Intelligence.
Treason and text messages: whom to trust and what's the truth?—heuristics to separate fallacy from facts.
My experience of Twitter censorship—creepy editing of reality by the social media giant.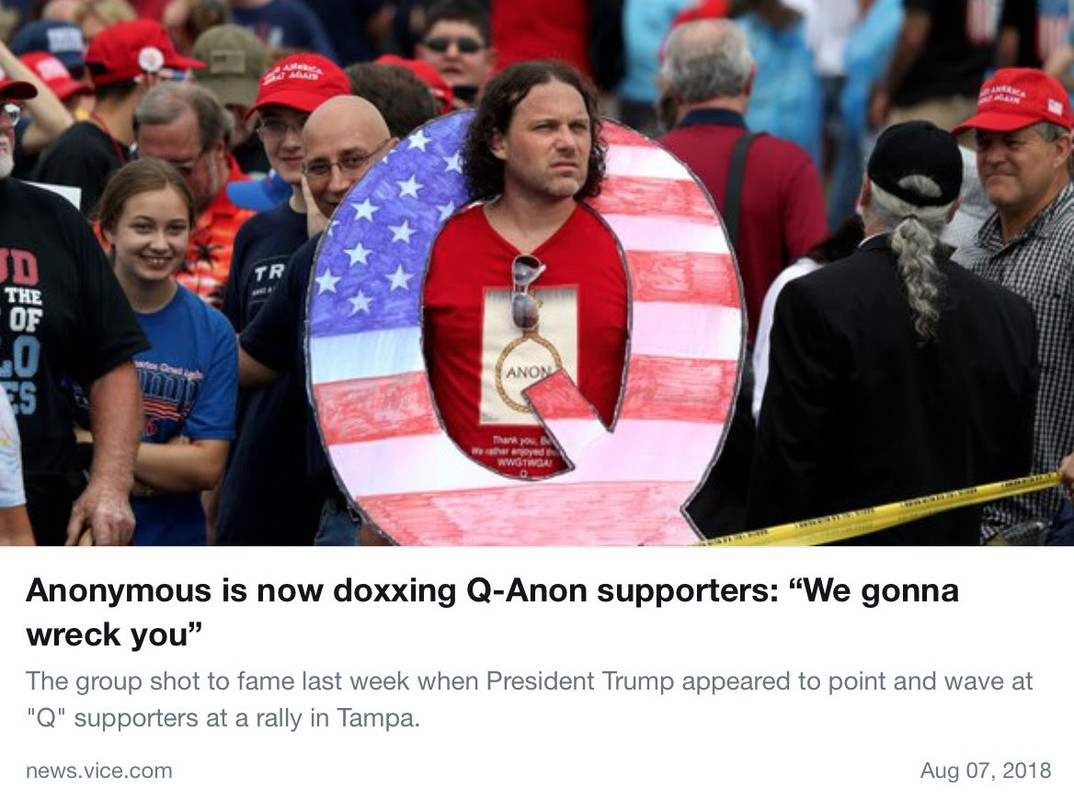 About Martin Geddes
I am a distributed computation expert, network performance scientist, and consultant to telcos and their vendors.
I collaborate with leading practitioners in the communications industry to create game-changing new technologies and businesses.
Get in touch if you need a thinking partner, inspiring speaker, workshop magician, or strategic advisor. I also offer education in network performance, digital supply chain quality, and the future of the Internet.
More about me in my professional guise: martingedd.es
About my consulting company: http://www.martingeddes.com
Follow @martingeddes on Twitter. I am also on Gab as a backup plan.
This article was originally published as a Future of Communications newsletter.
This article (Turn Them Off! #QAnon and the collapse of #FakeNews media) was originally published on Medium and syndicated by The Event Chronicle.
The Event Chronicle is SHADOW BANNED on Facebook. Please SHARE to help fight censorship!