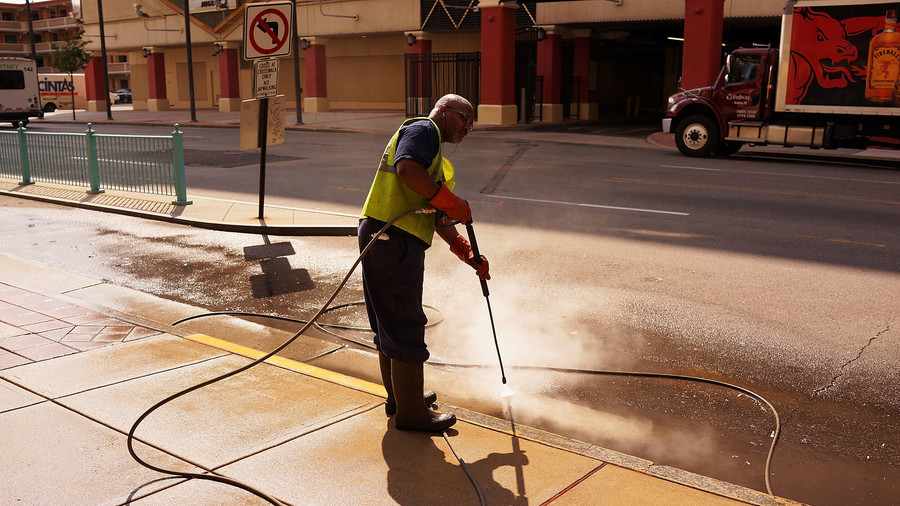 FILE PHOTO © Spencer Platt / AFP
Poop Patrol: San Fran deploys squads to clear streets of human feces after residents raise stink
Published time: 15 Aug, 2018 12:06
Edited time: 16 Aug, 2018 09:33
https://www.rt.com/usa/436012-san-francisco-poop-patrols/
Poop Patrol: San Fran deploys squads to clear streets of human feces after residents raise stink
San Francisco has established 'Poop Patrols' to deal with human waste that's contaminating sidewalks in one of America's wealthiest cities, sometimes making them almost impassable.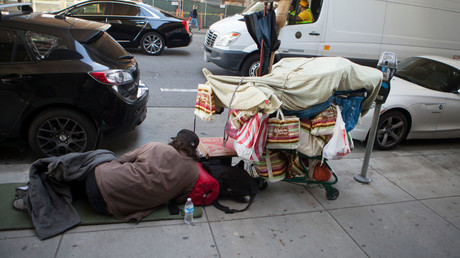 Read more: https://www.rt.com/usa/431838-san-francisco-human-feces/
A homeless person in San Francisco Complaints soar as San Francisco drowns in human waste
The city is about to launch the 'Poop Patrols' squad to remove man-made feces from the streets, the San Francisco Chronicle reported. The task force, made up of five Public Works staffers, will begin patrolling sidewalks "in about a month."
'Poop Patrol' will begin its unenviable work in the afternoon, by which time piles of feces tend to become visible. The poo crew will travel in a vehicle equipped with a steam cleaner. "We're trying to be proactive," explained Public Works Director Mohammed Nuru. "We're actually out there looking for it."
The Chronicle, however, good-naturedly trolled the city official, saying: "We're all out there looking for it, our eyes are trained on the sidewalks as we walk so as to avoid that awful squishy feeling."
It looks like the news is coming at just the right time, as around 65 complaints regarding sidewalk poop are made by San Francisco residents every day. Notably, the city, which is known for its skyrocketing housing prices, has only 22 public toilets.
Being part of a multi-million effort called Pit Stop, the toilets are open only until late afternoon or evening. So, at nighttime, there is only one option for homeless people to relieve themselves when urgently required.
Some of the waste also comes from dogs, as their owners fail to pick up after them.
Doing everything we can to make sure sidewalks are clear for pedestrians. pic.twitter.com/iRH3ZITOWg
— Mohammed Nuru (@MrCleanSF) August 13, 2018
Don't understand why people trash our beautiful city. Please call 911 if you see people dumping. Whomever did this should do some time in jail. pic.twitter.com/aqMUMpPZWN
— Mohammed Nuru (@MrCleanSF) August 13, 2018
Mayor London Breed had been taking unannounced tours to check out the city's streets before she teamed up with Public Works to establish 'Poop Patrols.' Breed said she had "to deal it with myself in front of my home," which was "not a pleasant feeling."
Earlier this year, residents pounded city authorities with demands to remove "sh*t, poop and excrement" from public areas. "[A] homeless encampment is blocking [the] sidewalk and creates a health hazard [with] trash and feces. Please move them, and send a cleaning crew. Sidewalk is impassable, forcing pedestrians into the street," read one municipal complaint.
Photo shows '20 pounds of feces' dropped on #SanFrancisco sidewalk 😮💩 https://t.co/vMmr75CFumpic.twitter.com/06RNHQaN8h
— KRON4 News (@kron4news) July 2, 2018
The scale of San Francisco's human-waste problem was graphically illustrated back in July, when photos of a sizeable plastic bag of excrement that was abandoned on a street corner were circulated on social media.
Think your friends would be interested? Share this story!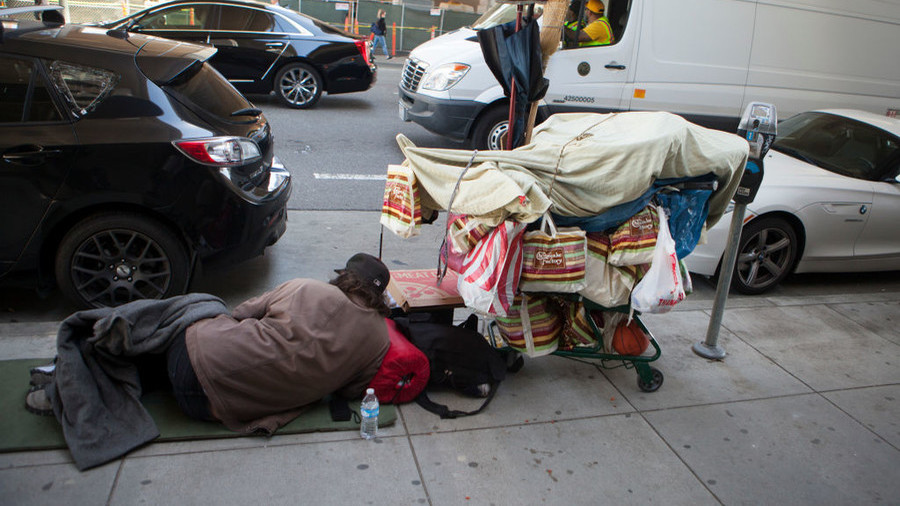 A homeless person in San Francisco / Getty Images
https://www.rt.com/usa/431838-san-francisco-human-feces/
Tech hub San Francisco, California is the second-most expensive US city to live in. It's also awash with human waste. This year, over 16,000 feces-related complaints have been lodged with city authorities.
As of Thursday, there have been 16,022 complaints made about 'feces,' and thousands of others made using words like 'sh*t', 'poop' and 'excrement', to San Francisco's municipal authorities.
"Human feces still not cleaned up despite multiple complaints. How many weeks will pass?" reads one complaint lodged Wednesday.
"Bodily fluids and feces down the whole street, garbage, cloths, food thrown all over sidewalk," reads another.
"Homeless encampment is blocking sidewalk and creates a health hazard w trash and feces. Please move them, and send a cleaning crew. Sidewalk is impassable, forcing pedestrians into the street," reported one user, his complaint accompanied with a photo of a tent pitched under a tree in the city's central Mission district.
San Francisco residents can make non-emergency '311' municipal complaints with the touch of a button, thanks to a website and a mobile app. Complainants can attach photos as proof, and the authorities send a notification when the problem is resolved.
Many of the complaints are connected to the city's homeless problem. Rent in the city averages over $3,500 per month, pricing out all but the highest earners and creating a city of wealthy tech employees on one side, and a teeming homeless underclass on the other.
San Francisco is beautiful, just don't mind the giant bags of feces and step over the used hypodermic needles!
— E.Stanley Thurston (@mrgoody_2_shoes) July 4, 2018
There are an estimated 7,500 homeless people in San Francisco at any given time, almost one percent of the city's 871,000 population. Elsewhere in California, the problem is almost as grave, with more than one quarter of the US homeless population living in the state.
The city's seedy underbelly leaves behind other forms of hazardous waste too. A February NBC report revealed that in addition to feces, downtown San Francisco is polluted with more garbage and used syringes than some of the world's poorest slums.
Dr Lee Riley, an infectious diseases expert at the University of California in Berkeley, told NBC reporters that in some parts of the city, the contamination is "much greater than communities in Brazil or Kenya or Italy."
Getting stuck by a used needle can pass on diseases like HIV and Hepatitis B and C. San Francisco has one of the largest HIV-positive populations in the US, with an estimated 16,010 people living with the disease.
Disturbing survey finds trash, needles, feces littering streets of Nancy Pelosi's home town. San Francisco has streets covered with garbage, human excrement and hypodermic needles across the liberal city. Discarded needles could cause HIV and Hepatitis B and C, Paradise lost. pic.twitter.com/UVcYL90ZdQ
— Captain Ron (@papaneeed1) June 16, 2018
The extent of San Francisco's human waste problem was graphically illustrated last week, with photos of a 20-pound bag of excrement abandoned on a street corner going viral. The city received several 311 complaints about the bag, as citizens reported a "strong smell of feces" in the area. One reddit user described the bag as "the most atrocious smell I've ever smelled in San Francisco."
Photo shows '20 pounds of feces' dropped on #SanFrancisco sidewalk 😮💩 https://t.co/vMmr75CFumpic.twitter.com/06RNHQaN8h
— KRON4 News (@kron4news) July 2, 2018
Complaints about human waste in San Francisco have skyrocketed, increasing by 400 percent from 2008 to 2018, according to the City. The 311 site and app received over 21,000 reports last year. At the current rate, that figure will be more than doubled by the end of 2018.
The problem is starting to hit the Golden Gate City where it hurts too. This week, a major medical association decided to pull its annual convention out of the city, citing safety concerns.
The convention was expected to draw 15,000 attendees and bring $40 million into the city's economy, but organizers told the San Francisco Chronicle that members were afraid to walk the streets and felt threatened by open drug use, unchecked mental illness, and threatening behaviour from the city's vagrant population.
Twitter users have not been shy about their disgust with the city's problems, with many blaming years of Democrat leadership for allowing the problem to fester.
San Francisco has reached critical mass in the drug, homeless, crime problem. Now major conventions are cancellingc. Participants too afraid to walk alone in the City by the Bay. So sad. Such a beautiful city being run into the ground.https://t.co/GGtecdpY6f
— Kari Lake Fox 10 (@KariLakeFox10) July 4, 2018
How's that liberal paradise California @TankTopArms? Anyone ready to #WalkAway? Or do they love being taxed to death and the smell of feces? Is the plan still to secede? #CalExithttps://t.co/egB13LzESZ
— DQ 🇺🇸 (@DQuesada) July 4, 2018
San Francisco is actually a pretty nice city…
You know when you remove the large number of homeless camps, drug addiction, poop maps, and trash lying everywhere. pic.twitter.com/bMr0m2Nk4P
— Ashton Whitty✨ (@ashtonbirdie) July 4, 2018
I'm sitting by the dock of the bay, watching the poo roll away | https://t.co/u7aTOMTjnl
— Mike (@Doranimated) July 5, 2018
San Francisco has grappled with homelessness since the 1970s, with the shortage of housing, deindustrialization, welfare cuts, and the gutting of the city's middle class through high taxes and gentrification all getting blamed for the problem. Attempts to fix the situation have thus far proven unsuccessful. The temporary shelters opened by Dianne Feinstein in the late 1970s were underfunded and buckled under demand, while the aggressive crackdowns of Frank Jordan and Willie Brown in the 1990s and 2000s drew public backlash and alienated the city's liberal voters. The city has not had a Republican mayor since 1964.
Recently elected Mayor London Breed has faced even more urgent calls to address the issue before business and tourism are scared away for good. Industry leaders have encouraged the mayor-elect to increase police patrols, enforce panhandling laws, and fund mental health services. With tourism bringing in some $9 billion dollars per year, failing to clean up the streets could bankrupt the city by the bay.
If you like this story, share it with a friend!