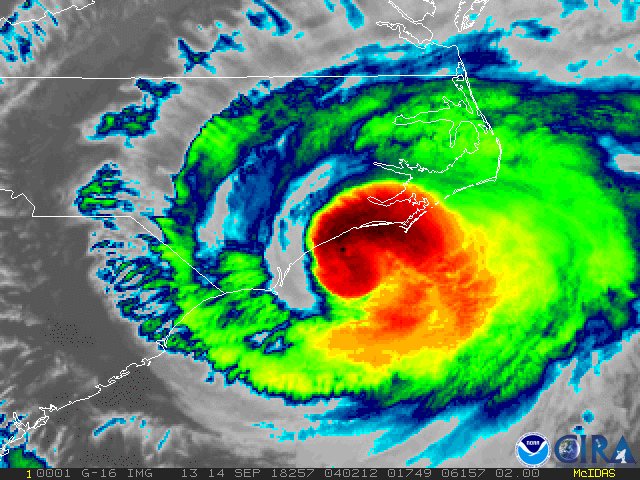 'The Threat Becomes a Reality': Deadly Florence Downgraded to Tropical Storm
09-14-2018
Jennifer Wishon
http://www1.cbn.com/cbnnews/us/2018/september/the-threat-becomes-a-reality-hurricane-florence-slams-carolinas-storm-surge-siege-underway
The National Hurricane Center in Miami, Fla., has downgraded Hurricane Florence to a tropical storm, but that will be of little relief as the 400-mile wide storm continues to pummel North Carolina, South Carolina, and Virginia with rain and wind.
The full force of Hurricane Florence began colliding with the coast Friday, slamming into Wilmington, North Carolina with whipping winds around 90 mph and gusts of 105 miles per hour.
Overnight, Florence was downgraded to a Category 1 hurricane with top sustained winds of 90 mph, but it's still shaping up to be an epic storm.
DAMAGE VIDEO: CBN News' Erik Rosales Reports from the Eye of the Storm in Wilmington
Operation Blessing Ready to Be the Hands and Feet of Jesus as Florence Rips into the East Coast
Hurricane Harvey 2
Meteorologist: Three Common Mistakes People Make During a Hurricane
The massive hurricane is moving slowly, unleashing extra havoc as it hovers over the region, including deadly storm surge and flooding rains. It's moving so slowly and dumping so much rain that some have called it a "siege" of the region.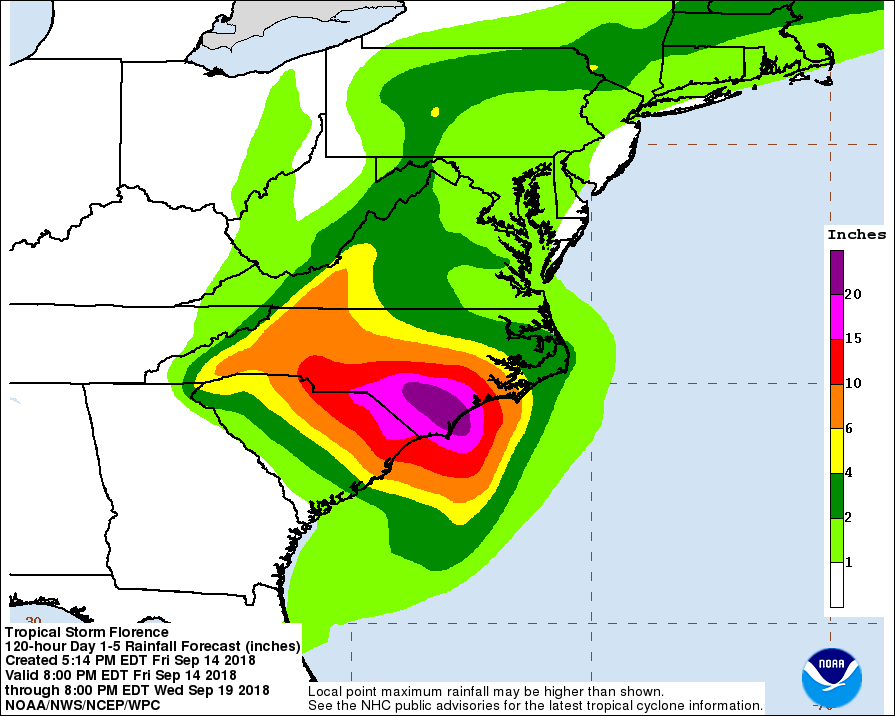 9:50 PM – Sep 13, 2018
1,212
783 people are talking about this
Twitter Ads info and privacy
The Associated Press reports a mother and an infant have become the first fatalities of Hurricane Florence after a tree fell on their home in Wilmington. Two other people have also been reported being killed due to the storm, including one person who was plugging in a generator, according to the North Carolina Governor's Office.
CBN News' Erik Rosales has this update from Wilmington, North Carolina.
The National Weather Service says 14 to 15 inches of rain has already fallen north of Swansboro, North Carolina and it's only going to get worse.
Weather Prediction Center senior forecaster David Roth told The Associated Press catastrophic flash flooding is expected to continue to worsen Friday.
He said that the heavy rainfall for southeast North Carolina is only one-third to one-quarter the way over. "Plenty of heavy rain remains in the future for this region," Roth wrote in the weather center's rain forecast discussion.
EXCLUSIVE DAMAGE VIDEO: Below, CBN News' Erik Rosales Reports from the Eye of the Storm in Wilmington
North Carolina Gov. Roy Cooper warned, "Don't relax, don't get complacent. Stay on guard. This is a powerful storm that can kill. Today the threat becomes a reality."
Florence has already been ripping apart buildings and has knocked out power to a half-million homes and businesses, and more than 60 people had to be pulled from a collapsing motel.
Hundreds more had to be rescued in other areas from rising waters, including in New Bern, North Carolina, where 150 people called to be rescued from rising flood waters, but it's unclear if rescuers were able to reach them all under the intense conditions.
City of New Bern
@CityofNewBern
Currently ~150 awaiting rescue in New Bern. We have 2 out-of-state FEMA teams here for swift water rescue. More are on the way to help us. WE ARE COMING TO GET YOU. You may need to move up to the second story, or to your attic, but WE ARE COMING TO GET YOU. #FlorenceNC
2:27 AM – Sep 14, 2018
2,430
1,849 people are talking about this
Twitter Ads info and privacy
"Surviving this storm will be a test of endurance, teamwork, common sense and patience," Gov. Cooper said.
In South Carolina, another state in the hurricane's crosshairs, emergency officials turned to the Bible, publicly praying and citing Proverbs 6:6-8 which talks about being prepared.
"Help us to use this event as a rallying point for unity, help us to honor and praise you even in the midst of the storm," a military prayed.
NOAA Satellites
✔
@NOAASatellites
Breaking: #HurricaneFlorence made landfall near Wrightsville Beach, North Carolina at 7:15 am ET. @NOAA's #GOESEast satellite got a view of the Cat. 1 hurricane moving ashore this morning. Latest updates from @NHC_Atlantic: http://go.usa.gov/xPYuq
7:46 AM – Sep 14, 2018
887
751 people are talking about this
Twitter Ads info and privacy
Florence is expected to dump some 20 inches of rain on Myrtle Beach, SC, and is churning storm surges of 10 feet. Farther inland, rivers are already overflowing their banks. In mountainous regions, officials warn of mudslides.
Here's a rainfall prediction from the National Hurricane Center:
Power outages are already widespread and 40,000 power workers from 17 states are mobilized to respond.
Tens of thousands of people across the Carolinas and Virginia are weathering the storm in shelters.
"Once these winds start blowing at that tropical storm rate it would be virtually impossible for the rescuers to get in to rescue you," Gov. Henry McMaster warned.
Flights are grounded at several airports in the Southeast as Hurricane Florence barges through the region.
The Associated Press reports that by midday Friday, airlines had canceled more than 2,100 U.S. flights from the storm's approach on Wednesday through Sunday.
The region's two largest airports, in Charlotte and Raleigh-Durham, North Carolina, had more than 200 cancellations on Friday. That's about half the flights in Raleigh and one in eight at Charlotte.
President Trump says he's confident the federal government is ready to respond. Many in the storm's path are holding on to the promise that they're not alone.
"Help us to remember that the same God that created the heavens and the earth is the same God that is with us and will see us through the storm. We ask all these things in your gracious name Lord," a military chaplain prayed as Gov. McMaster and others bowed their heads.
Did you know?