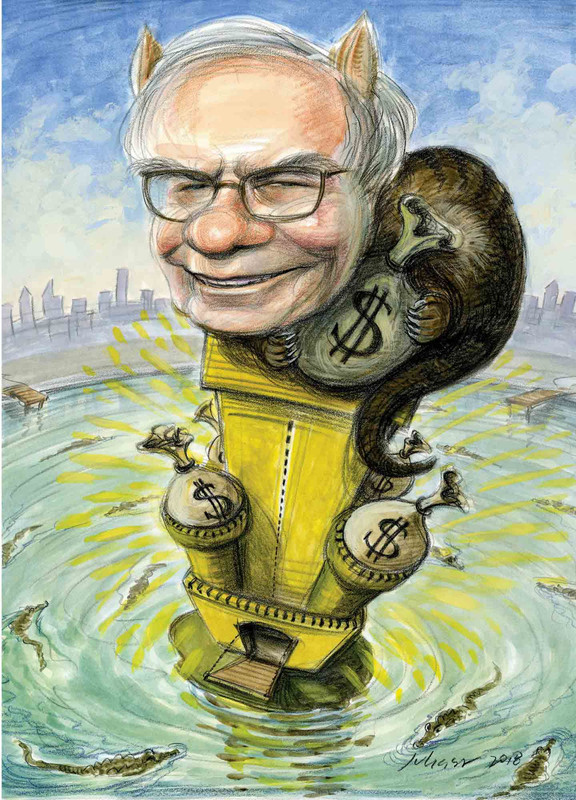 Image from: https://www.thenation.com/article/special-investigation-the-dirty-secret-behind-warren-buffetts-billions/
snd the story at the link:
Special Investigation: The Dirty Secret Behind Warren Buffett's Billions
Wells Fargo banking unit probed for employee fraud: Report
By Brittany De LeaPublished September 06, 2018
FinancialsFOXBusiness
https://www.foxbusiness.com/financials/wells-fargo-banking-unit-probed-for-employee-fraud-report
Warren Buffett on Apple investing in Tesla: It would be a poor idea
Berkshire Hathaway CEO Warren Buffett discusses how he isn't giving up on Wells Fargo and why it would be a poor idea for Apple to invest in Tesla.
The Department of Justice is probing Wells Fargo's wholesale banking unit for fraud in the wake of reports that employees adjusted corporate customers' information on documents without their knowledge or consent, The Wall Street Journal reported Thursday.
Workers in the bank's wholesale unit are said to have added or changed personal information including birth dates, Social Security numbers and addresses for people associated with its business clients in 2017 and early 2018. At the time, the unit was pressed with regulatory deadlines, including one related to anti-money laundering controls.
The DOJ is said to be investigating whether management influenced employee actions, people familiar with the matter told the Journal, looking to see whether there is a pattern of behavior when it comes to management pressure.
Wells Fargo became aware of the incident in May and told FOX Business at the time that the incident involved internal documents used for internal purposes only, and no customers were negatively impacted.
The bank's own review revealed that the issue within the wholesale banking unit was spread out among more divisions than it initially thought, according to the Journal.
In a statement on Thursday a spokesperson for the company said "the situation involved a new process and a new required document," adding that additional training and procedures have since been implemented. The bank reiterated that no customers were negatively impacted.
However, this issue is just the latest that has arisen for the scandal-ridden bank throughout recent months.
Last week, the Journal reported that Wells Fargo fired or suspended at least a dozen employees at its investment bank – Wells Fargo Securities – over allegations these individuals doctored after-hours dinner receipts and charged it to the company in violation of etiquette.
In a statement to FOX Business, a spokesperson for the bank confirmed that they became aware certain employees were not complying with after-hours meal reimbursement policies, and are continuing to investigate the matter.
These incidents come while the bank is trying to rebrand its image, after it was revealed that employees were creating fraudulent accounts for customers without their approval. The company paid a $185 million fine in 2016 as a penalty.
Last month, the Justice Department announced that the bank would pay a civil penalty of more than $2 billion for allegedly misrepresenting the quality of its residential mortgage-backed securities in the run-up to the financial crisis.
Despite all of the bad news, Wells Fargo still has a fan in billionaire investor Warren Buffett, who told FOX Business' Liz Claman in an interview last month that while the company "had the wrong incentives initially," he stands by his investment – a 9 percent stake at 452 million shares.