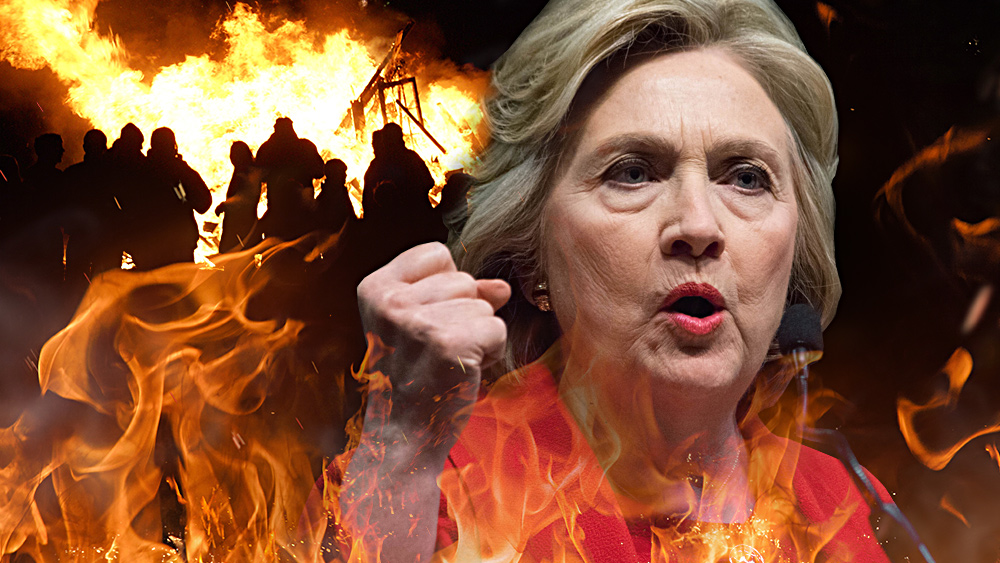 Image: HELD HOSTAGE: Democrat leader commits to mass violence across America if Dems don't win the mid-terms
HELD HOSTAGE: Democrat leader commits to mass violence across America if Dems don't win the mid-terms
https://www.naturalnews.com/2018-10-11-held-hostage-democrat-leader-mass-violence-across-america.html
Thursday, October 11, 2018 by: Mike Adams
(Natural News) Democrat front runner Hillary Clinton, who is reportedly running for President in 2020, has just announced that if Democrats don't win the mid-terms by taking back the House of Representatives, they will unleash mass violence across America.
"[Hillary Clinton] says that civility can ONLY return when the Democrats take back the government," writes Martin Armstrong from ArmstrongEconomics.com. "Clearly, this is throwing down the gauntlet that it shall be their way or no way. Hillary is effectively advocating the destruction of the United States. She has simply stated bluntly that democracy will no longer be tolerated unless the Democrats win and then subjugate the opposition."
This despicable tactic — now openly endorsed by Hillary Clinton herself — is an attempt to hold America hostage to the violent threats of deranged, lunatic Leftists who are now led by violence-pushing mob bosses like the Clintons. By advocating this threat against America, Clinton has committed to a path of violence for America unless Democrats get their way.
This shows the bad faith demonstrated by Democrats who have now repeatedly shown they will not accept the outcome of any election unless they win that election. Similarly, any institution the Democrats do not control is attacked as being "illegitimate." The moment Brett Kavanaugh got confirmed to the U.S. Supreme Court, for example, Democrats began attacking the Supreme Court as "illegitimate."
Democrats don't believe in democracy, it turns out. They believe only in authoritarianism and tyrannical rule.
View image on Twitter
Not surprising that this wretched hag would jump on the violence bandwagon driven by Democrats these days. I guess… twitter.com/i/web/status/1…—
James Woods (@RealJamesWoods) October 10, 2018
James Woods
✔
@RealJamesWoods
Not surprising that this wretched hag would jump on the violence bandwagon driven by Democrats these days. I guess they want civil war. That would be a terrible thing and surely would not end well for them. #DemocratViolence
8:35 PM – Oct 9, 2018
The American people had better wake up and realize they're already in a civil war being waged by ruthless, lawless Democrats
Most Americans continue to blindly believe that Democrats are playing by the rules. They assume that Democrats are participating in elections because they agree to the mechanism of how elections work… a kind of social contract. Civil society requires adherence to a "social contract" that says the outcomes of elections will be honored even if your favorite candidate doesn't win.
But Democrats have abandoned that social contract, and they no longer operate in good faith. Elections have become nothing but a sham to the political Left, for if they win elections, they weaponized government against their political opponents. If they lose elections, they weaponize their obedient masses against the entire nation. Accordingly, the rest of America must recognize they are no longer dealing with fair, rational Democrats who will abide by the rules and honor the process of democracy. Instead, Democrats are threatening the nation with violence, promising civil unrest if they don't win back political power at the next election.
This is the equivalent to sending every American voter to the voting booths with a gun at their head. "Vote Democrat, or else…" should be the slogan of the DNC. The planned destruction of America is now a very real part of the Democrats' plan if they fail to win at the ballot box.
https://www.real.video/embed/5847122674001
Obviously, the Democrats' commitment to violence explains exactly why they should never be allowed to gain political power again. Democrats have become dangerous, even terroristic in their rhetoric and action.
Here's a small sample of the violence Democrats are now promising to carry out nationwide if they don't win the mid-terms:
https://pbs.twimg.com/ext_tw_video_thumb/738560461025595392/pu/img/9y1uEKGCU30c05r6?format=jpg&name=small
Tim Pool
✔@Timcast
NOW: #Trump supporter attacked and left bleeding in San Jose
10:41 PM – Jun 2, 2016 · San Jose, CA
3,844
6,135 people are talking about this
If you thought the Left's mob violence demonstrated before the 2016 election was insane, that was just a tiny sample of what's to come if they don't get the election outcome they want in November.
From the top on down, the Democrat party is now a terrorist organization that seeks the complete destruction of America
It's now crystal clear that the Democrat party is the party of terrorism, violence, lawlessness and destruction. Anyone who votes for a Democrat in the coming election is voting for evil, destructive forces that are now overtly threatening our nation.
Importantly, people need to realize this is no longer merely a political war… and we must respond to the Democrat terrorists in the same way we might respond to any other form of terrorism or violence: With an overwhelming lawful response to arrest, imprison and prosecute those who commit acts of violence in our communities or against our citizens.
President Trump must now declare Antifa to be a domestic terrorism organization and carry out the mass arrests of Antifa leaders across the country. Similarly, when radical left-wing mobs attempt to take over cities like they accomplished in Portland over the past few days, local police must be ordered to arrest the violent mobs. If local mayors attempt to interfere with the police action to arrest violent mobs, then the local mayor should be arrested as well, and charged with interfering with police operations to restore civility.
Although Trump will likely not take these actions before the upcoming mid-term elections, we are urging him to replace Jeff Sessions at the DOJ immediately after the election, then issue DOJ orders to all police departments nationwide: No more backing down from violent left-wing mobs. Police must be free to engage the left-wing mobs, halt the violence, and even use deadly force in response to those mobs deploying deadly weapons against law enforcement.
Watch my full video analysis of the Democrats' promise to escalate violence in this new Counterthink episode:
https://www.real.video/embed/5847489454001
(I can't manage to get the RealPlayer embed codes to work in my blog!)
Are you personally prepared for the violence promised by the radical Left?
Beyond national preparedness and the rising risk of civil war that Democrats are now promising to unleash, are you prepared for your own safety and protection? Videos of left-wing mobs clearly show they are willing to assault completely innocent people, including elderly white people merely attempting to drive their own cars through a city like Portland.
You must watch this video, posted just days ago on REAL.video. It shows exactly what the deranged, violent Left plans to do across every major city in America:
https://www.real.video/embed/5846406561001
Are you prepared to defend your life against these lunatic mobs? Have you legally acquired the firearms and concealed carry permits (if required) necessary to defend yourself against lunatic mob violence?
Always obey the law and maintain a defensive posture. Get proper training before carrying or deploying firearms.
If you haven't yet watch the "Joy of Shooting" series on REAL.video, which teaches pistol basics to beginners, here are all the URLs to watch:
Part 2: https://www.real.video/5811794917001
Part 3: https://www.real.video/5814283375001
Part 4: https://www.real.video/5815335803001
Part 5: https://www.real.video/5815339348001
Part 6: https://www.real.video/5822235517001
Part 7: https://www.real.video/5825427819001
Here's episode one:
See more breaking news videos every hour at REAL.video.
Sponsored solution from the Health Ranger Store: Lab-verified Nascent Iodine solution is a dietary supplement that provides your body with supplemental iodine to help protect your thyroid during radiation exposure. Nuclear accidents such as Fukushima (or nuclear war) can expose your body to radioactive iodine-131, a dangerous radioisotope. Pre-loading your system with stable iodine occupies the iodine receptor sites on your organs, causing your body to naturally expel radioactive iodine you may have been exposed to through air, food, water or milk products. This defensive strategy is recommended by nearly all health authorities, worldwide, including the Nuclear Regulatory Commission. Discover more at this link.
The REAL WAR for the future of humanity: Democrats increasingly possessed by demonic forces that seek the extermination of humanity?
13K
VIEWS
RECEIVE OUR FREE EMAIL NEWSLETTER
Get independent news alerts on natural cures, food lab tests, cannabis medicine, science, robotics, drones, privacy and more.
Email Address
Enter Captcha Code (shown below)
Z X A L B
More news on chaos
HELD HOSTAGE: Democrat leader commits to mass violence across America if Dems don't win the mid-terms
Web site of far-Left Antifa teaches radicals how to hurt police, rob banks, sneak across the border, and more
Your SHTF guide to bugging out in an RV
Epic rainfall from Hurricane Florence could burst dams in Virginia, warn state officials
Leland, North Carolina already CRIMINALIZING all personal firearms ahead of the coming hurricane… city leaders believe hurricanes nullify the Constitution
Citizen journalism: REAL.video to feature Hurricane Florence videos Friday, Saturday, Sunday: Join, upload and HELP others stay safe
No one is ready for what's about to happen
What happens when Hurricane Florence strikes? See this detailed analysis, threat assessment and preparedness video from Adams
5 Must-have radios for survival in a grid-down situation
A guide to rebuilding after TEOTWAWKI
About the author: Mike Adams (aka the "Health Ranger") is a best selling author (#1 best selling science book on Amazon.com called "Food Forensics"), an environmental scientist, a patent holder for a cesium radioactive isotope elimination invention, a multiple award winner for outstanding journalism, a science news publisher and influential commentator on topics ranging from science and medicine to culture and politics. Follow his videos, podcasts, websites and science projects at the links below.
Mike Adams serves as the founding editor of NaturalNews.com and the lab science director of an internationally accredited (ISO 17025) analytical laboratory known as CWC Labs. There, he was awarded a Certificate of Excellence for achieving extremely high accuracy in the analysis of toxic elements in unknown water samples using ICP-MS instrumentation. Adams is also highly proficient in running liquid chromatography, ion chromatography and mass spectrometry time-of-flight analytical instrumentation. He has also achieved numerous laboratory breakthroughs in the programming of automated liquid handling robots for sample preparation and external standards prep.
The U.S. patent office has awarded Mike Adams patent NO. US 9526751 B2 for the invention of "Cesium Eliminator," a lifesaving invention that removes up to 95% of radioactive cesium from the human digestive tract. Adams has pledged to donate full patent licensing rights to any state or national government that needs to manufacture the product to save human lives in the aftermath of a nuclear accident, disaster, act of war or act of terrorism. He has also stockpiled 10,000 kg of raw material to manufacture Cesium Eliminator in a Texas warehouse, and plans to donate the finished product to help save lives in Texas when the next nuclear event occurs. No independent scientist in the world has done more research on the removal of radioactive elements from the human digestive tract.
Adams is a person of color whose ancestors include Africans and American Indians. He is of Native American heritage, which he credits as inspiring his "Health Ranger" passion for protecting life and nature against the destruction caused by chemicals, heavy metals and other forms of pollution.
Adams is the founder and publisher of the open source science journal Natural Science Journal, the author of numerous peer-reviewed science papers published by the journal, and the author of the world's first book that published ICP-MS heavy metals analysis results for foods, dietary supplements, pet food, spices and fast food. The book is entitled Food Forensics and is published by BenBella Books.
In his laboratory research, Adams has made numerous food safety breakthroughs such as revealing rice protein products imported from Asia to be contaminated with toxic heavy metals like lead, cadmium and tungsten. Adams was the first food science researcher to document high levels of tungsten in superfoods. He also discovered over 11 ppm lead in imported mangosteen powder, and led an industry-wide voluntary agreement to limit heavy metals in rice protein products.
In addition to his lab work, Adams is also the (non-paid) executive director of the non-profit Consumer Wellness Center (CWC), an organization that redirects 100% of its donations receipts to grant programs that teach children and women how to grow their own food or vastly improve their nutrition. Through the non-profit CWC, Adams also launched Nutrition Rescue, a program that donates essential vitamins to people in need. Click here to see some of the CWC success stories.
With a background in science and software technology, Adams is the original founder of the email newsletter technology company known as Arial Software. Using his technical experience combined with his love for natural health, Adams developed and deployed the content management system currently driving NaturalNews.com. He also engineered the high-level statistical algorithms that power SCIENCE.naturalnews.com, a massive research resource featuring over 10 million scientific studies.
Adams is well known for his incredibly popular consumer activism video blowing the lid on fake blueberries used throughout the food supply. He has also exposed "strange fibers" found in Chicken McNuggets, fake academic credentials of so-called health "gurus," dangerous "detox" products imported as battery acid and sold for oral consumption, fake acai berry scams, the California raw milk raids, the vaccine research fraud revealed by industry whistleblowers and many other topics.
Adams has also helped defend the rights of home gardeners and protect the medical freedom rights of parents. Adams is widely recognized to have made a remarkable global impact on issues like GMOs, vaccines, nutrition therapies, human consciousness.
In addition to his activism, Adams is an accomplished musician who has released over fifteen popular songs covering a variety of activism topics.
Click here to read a more detailed bio on Mike Adams, the Health Ranger, at HealthRanger.com.
Find more science, news, commentary and inventions from the Health Ranger at:
Diaspora: (uncensored social network)
Share.NaturalNews.com