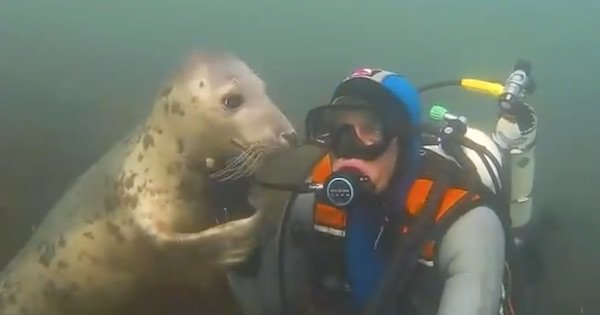 Wild Grey Seal Wants Diver To Give Him A Hug And Hold Hands
A British GP has experienced the encounter of a lifetime when a wild grey seal lovingly hugged him and patted his arm.
Ben Burville, a doctor by day and veteran diver of over 32 years by night, received the loving embrace and warming taps on the arm by the seal while he was diving off the coast of the Farne Islands, Northumberland, UK, in September.
The seal playfully approached Ben underwater, appearing to tap the diver in order to gain his attention before wrapping its flippers around him for the pair to share a comforting hug.
Rumble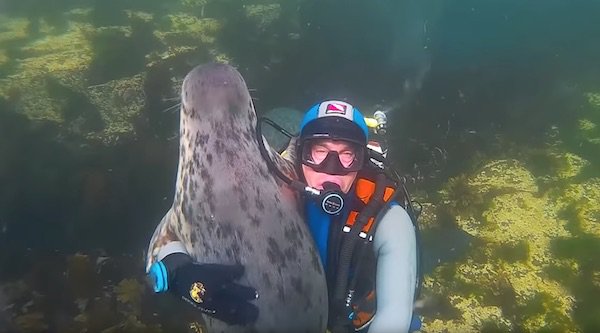 The seal proceeded to stay glued to the doctor's arm, appearing to be fully entertained by the doctor's eye mask and breathing gear.
Aside from being a full-time GP, Ben also works as a researcher at the Newcastle University's marine biology department where he studies grey seals and white dolphins. He says that seals often play games with him where they will try to remove his mask, clip included, or hood. They will do that so gently and they would never hurt him.
However, this only came about after years of interaction and observation. Of his filmed encounter Ben told Caters via Rumble: "I realize that I am incredibly fortunate to have this opportunity and insight into their world that this facilitates. Having dived and observed gray seals for over 18 years, they have shown me how to dive with them in a way that they feel at ease."
Rumble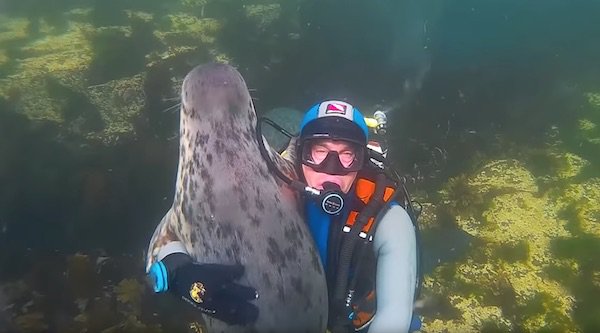 "Seals are not pets, nor are they in any way tame – these are wild seals with the population fluctuating all the time with new seals joining and others moving away."
"Very rarely do I dive with the same seal. "Mostly it involves how I breathe, controls my buoyancy, moves underwater and uses hand signals – I have also learned that certain noises are of interest to the seals."
"When they hug you or hold your hand it is hard to describe the feeling – time stops. You are 100 percent aware of being in that very moment, peaceful, calm, and I suppose the term is mindful."
Watch the adorable encounter in the video below.
https://i.rmbl.ws/s8/2/r/M/W/P/rMWPa.caa.1.mp4?b=0&u=76ml