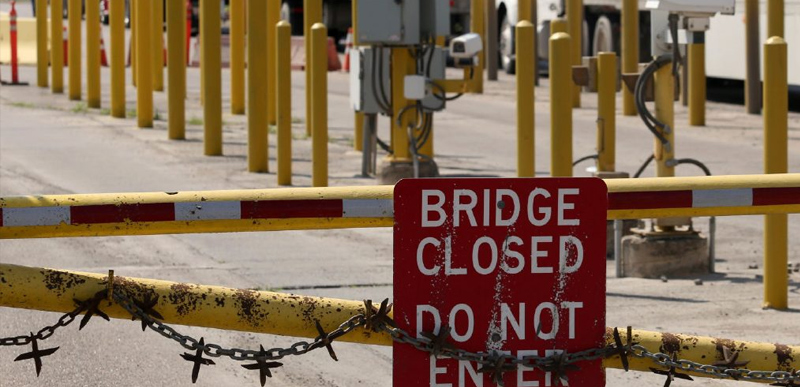 EPIC BACKFIRE: Angry migrants STORM Texas border crossing, injure agents, force port of entry CLOSURE
Fred T JUL. 20, 2019 3:27 PM BY FRED T
EPIC BACKFIRE: Angry migrants STORM Texas border crossing, injure agents, force port of entry CLOSURE
We have a saying in Texas that goes "don't mess with Texas." (A lot of our sayings have our name in them.) But people continue to try to mess with Texas anyway. And on Friday, an angry mob of "migrants" attempted to cross into this country illegally by basically attacking a border patrol guarded port of entry to the United States on our fine state's southern border.
The geniuses caused what is one of this country's biggest ports of entry to CLOSE as a result. Brilliant.
Around 4 a.m., officials said in a press release, around 50 individuals rushed the Customs and Border Protection at Pharr International Bridge and clashed with agents. The group attempted to overwhelm officials by organizing into three "waves" for the rush attack.
"Ignoring commands to stop, the group suddenly rushed the temporary barricades, bent metal poles and disabled the concertina wire affixed to the barrier," said Customs and Border Protection in the release.
CBS-4 in Harlingen, near Brownsville (about 45 miles away from the bridge), reports:
Several males in the group physically pushed through the barriers and, when confronted by CBP, the individuals began assaulting officers and attempted to grab the officers' protective devices.
Agents deployed tear gas and pepperball launching systems in efforts to stop the group.
The result? A temporary closing of one of the busiest points of access in the whole dang country. Smart move, dummies.
It's a crisis. An emergency. Not merely because of conditions at detention facilities that are overwhelmed by the mass illegal immigration, but because of the emboldened, increasingly defiant and entitled "migrant" population that watch the news and hear Democrats telling them they have the right to be here, without document, without entering legally, and without restriction.