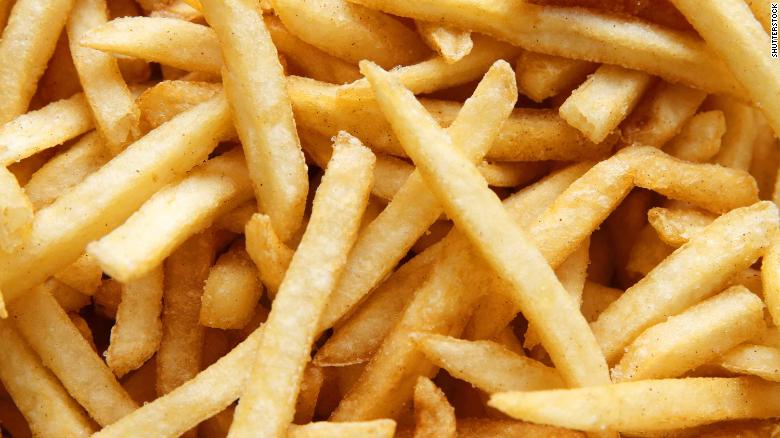 Boy goes Blind and Deaf at 17 from years of just Junk Food
https://www.cnn.com/2019/09/03/health/poor-diet-blindness-scli-intl/index.html
Eating a diet of french fries, Pringles and white bread was enough to make one teenage boy lose his sight, according to a case study published in a medical journal.
Scientists from the University of Bristol examined the case of a young patient whose extremely picky eating led to blindness, and have warned of the dangers of a poor diet.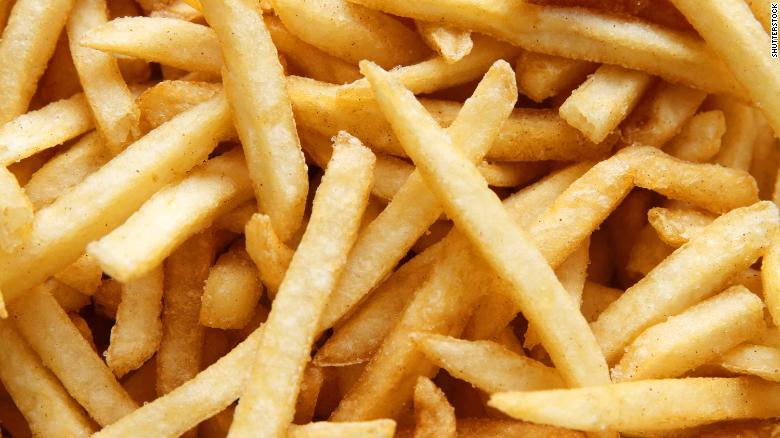 The unidentified patient told doctors he had only eaten fries from the fish and chip shop, Pringles potato chips, white bread, slices of processed ham and sausage since elementary school, and he avoided foods with certain textures. He first visited a doctor at age 14, complaining of tiredness, according to a case report published in the Annals of Internal Medicine on Monday.
He wasn't taking any medication, had a normal BMI and height, and showed no visible signs of malnutrition.
Doctors discovered low vitamin B12 levels and anemia, treating the patient with vitamin B12 injections and offering dietary advice.
One year later there were signs of hearing loss and vision symptoms, but doctors did not find the cause.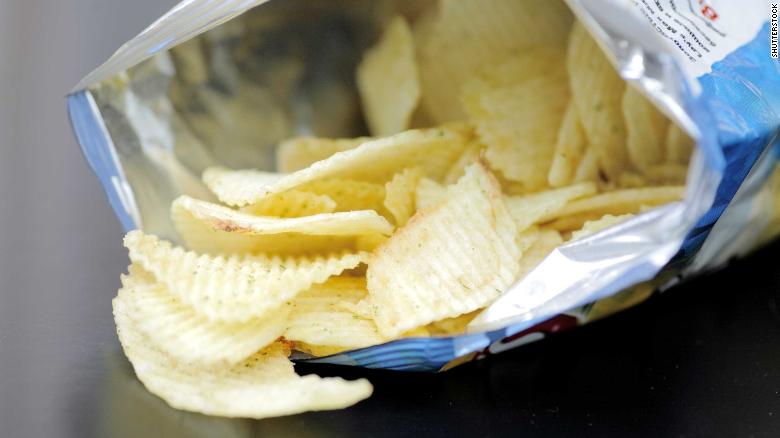 The patient's extreme diet led to nutritional optic neuropathy.
The patient's extreme diet led to nutritional optic neuropathy.
His vision had worsened to the point of blindness by 17 years of age, and doctors identified vitamin B12 deficiency, low copper and selenium levels, a high zinc level, reduced vitamin D level and bone level density, according to a statement from the University of Bristol.
By this stage, vision damage was permanent.
Researchers from Bristol Medical School and the Bristol Eye Hospital examined the case and concluded that the patient suffered nutritional optic neuropathy, a dysfunction of the optic nerve.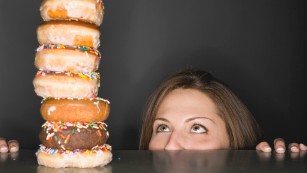 In developed countries it is mostly caused by bowel problems or medication that interferes with the absorption of nutrients, and it is rarely caused entirely by poor diet because food is readily available.
In some places, malnutrition caused by poverty, war and drought is linked to higher rates of nutritional optic neuropathy, according to a statement.
Fast food may contribute to teen depression, study says
The condition is reversible if treated early but can lead to blindness if no action is taken.
"Our vision has such an impact on quality of life, education, employment, social interactions, and mental health," said study lead author Denize Atan, an ophthalmologist at Bristol Medical School and Bristol Eye Hospital.
"This case highlights the impact of diet on visual and physical health, and the fact that calorie intake and BMI are not reliable indicators of nutritional status."
The researchers say that poor diet and reduced intake of minerals caused vision loss in this case, and warn that nutritional optic neuropathy could become more common due to the consumption of junk food.
They also warned vegans to make sure to supplement for vitamin B12 to avoid deficiency.
To prevent similar cases, doctors should ask patients about their dietary history as part of routine clinical examinations, the researchers urged.
Extreme example
Tom Sanders, a professor of nutrition and dietetics at King's College London, was critical of the case report, saying it relied on the patient's own recall of his eating habits and did not take into account other possible explanations for the condition, including genetic defects or environmental exposures.
Cutting about 300 calories a day might benefit your heart, study finds
Cutting about 300 calories a day might benefit your heart, study finds
"Vitamin B12 deficiency can cause optic neuropathy but it is very unusual to find dietary deficiency when animal products are consumed e.g. ham and sausages which are significant sources of the vitamin B12," he told the Science Media Centre in London.
Gary Frost, a professor of nutrition and dietetics at Imperial College London, who was not involved in the research, told CNN it is incredibly rare for someone in the UK to have a diet so limited it results in micronutrient deficiencies.
"Although it is an extreme example, it highlights the importance of having a wide and varied diet to ensure that you get the profile of nutrients and micronutrients that are needed for healthy development," said Frost.
These deficiencies become more likely the more limited the choice of food, he added.
"Fussy eating is very common in young children and in extreme cases can lead to very limited choice of food," said Frost.
"There is a need to pick up on eating problems such as these as early as possible so the issue around limited textures and tastes can be addressed." he had only eaten fries, Pringles potato chips, white bread, slices of processed ham and sausage since elementary school
Health complaints started at age 14, and by age 17 he was irreversibly blind and deaf.
My friend James Krage sent me the above article in an email. The remainder of the email:
As I've mentioned before, some of the basics for good Health are:
1) Drink Lots of Pure Water
2) Eat lots of Raw Foods and Juices – read my http://www.LiveFoodHealing.com
3) Especially eat lots of dark Green Leaves (not Head Lettuce)
4) Get lots of minerals, including trace minerals – I buy Ancient Minerals here
5) Alkalize your body – a simple teaspoon of baking soda helps, especially before bed
6) Exercise and get Sunlight
7) Avoid GMO, excess sugar, artifical sweeteners, too much meat, and other unhealthy food
8) Take Prebiotics to feed your good gut bacteria – don't just take Probiotics – read my http://www.PreBioticInfo.com
9) Take healthy oils, like CBD Hemp Oil, Wild Salmon Oil, Black Seed Oil – I get mine here
——————————————————————————–
Hi, I'm Jim Krage.
You can read more about me at http://www.JamesKrage.com
You've been taught a lot of wrong things, and I hope to help you understand what is real.
1) The US Economy is more Corporatist than Capitalist:
International Corporations are favored by laws and bribe Politicians to get their way.
The Deep State includes those Corporations and their bribery tries to thwart our Republic.
So, the debate between Capitalism and Socialism in the US if false – we have Corporatist Socialism with limited Capitalism.
2) Tax-the-Rich Socialism doesn't work, but letting the people benefit from Natural Resources does.
Libya nationalized the Oil and gave the people a high standard of living.
Libya had a Resource-based Economy that benefited the people, and a Republic with Capitalism.
The Rothschild family and their Corporations got the US to destroy Libya and give them the Oil Money.
Venezuela followed Libya's example, but the US has worked to ruin Venezuela.
Watch the movie "THRIVE" online free to understand Resource Based Economy.
A Resource Based Economy is limited Socialism that can work within a Capitalist Economy.
Watch the Movie "THRIVE" for free at https://www.youtube.com/watch?v=lEV5AFFcZ-s
3) The US is a Constitutional Republic, not just a Democracy.
Ben Franklin called a Democracy a Mobacracy, where the Majority can subjugate the Minority.
A Republic is where people have Representatives vote for them,
and a Constitutional Republic is where the Representatives are restricted by a Constitution.
A Constitutional Republic gives Congress Limited Power and restricts what they can do.
In the US, the District of Columbia was set up as a Corporation, and Congress can pass laws that apply only to DC.
Laws that apply to more than DC have to be published in the Federal Register.
IRS Code and many other laws for DC were never published in the Federal Register, because they aren't for us.
4) The Grace Commission under Reagan found that not 1 dime of IRS money goes to the Government.
100% of IRS Money goes to the Federal Reserve ("Fed") as Interest on Money circulated.
The Treasury prints Dollar Bills, the Fed buys them at cost and loans them at interest.
100% of IRS income pays for Interest on Money Circulated – so eliminate the Fed, then the IRS.
The owners of the Fed use that interest to buy things and subvert the US government.
Read the book "Creature from Jekyll Island" by G. Edward Griffin to understand more.
If the Fed were dissolved and the Treasury circulated the money, the IRS would not be necessary.
Import Duties, Interstate Commerce fees, and other Constitutional fees have paid our Nation's debts.
5) "Global Warming" is Fake News based on Faked Statistics.
What we have is GeoEngineering, like HAARP, where JetStreams are moved to create Environmental Havoc.
The Arctic JetStream was recently moved south with electronic bombardment of the atmosphere,
so the Arctic Jetstream is now over the North US, and California is drenched with Washington Weather.
6) Monsanto's Roundup/Glyphosate is polluting food and water, even in rain.
You will no longer be able to absorb some trace minerals, and your health will go down.
That is according to their Plan to reduce Earth population to 500 million – see Georgia Guidstones.
——————————————————————
R.I.P. Uber and Lyft – Tryp RideShare is Here:
Tryp is about to (open &) beat Uber & Lyft and take the lead.
Tryp charges riders less than Uber or Lyft.
Tryp pays Drivers 100% of fares, tips and even cancellations.
Tryp pays People that Influence Drivers to Join – $200/month every month for 3 Drivers / $600/mo for 10, etc
go to http://www.UberSlayer.com to learn more
I hope to make at least $2,000 a month passive income every month with this.
(I just have to ask a Driver for Uber or Lyft if they want to make more money)
4
—————————————————————————
Watch the Documentary Movie "VAXXED"

——————————————————————————-
[The following offer ends soon]
Unlimited Everything Cell Phone Service less than $6/month Prepaid
No More Cell Phone Bills for 7 Years!
I've bought 5 Cell Phone SIMS from MCS USA so far – fast quality unlimited Cell Phone service!
I will have no more Cell Phone Bills for 5 years, saving $50/month x 2 for 5 years.
Unlimited Voice and Text, and Data – no Data Throttling, (+ Hotspot with Throttling at 10 gb)
[now $430 with Promo Code] — no more Bills for 7 years.
MCS USA is growing fast, and is now Ruby9.
The price is now $630 for 2 years, but I can give you a Promo Code to get it for $430 + tax for a short time.
$430 PrePaid for 7 Years calculates out to about $6/month.
$430 for 7 years calculates to $5.12/month – only offered for a while, then $16.99/mo regular price
They have new patented technology and market advantages to beat out all the competitors.
(The $430 cuts out the middleman – no monthly commissions to agents/brokers.
This offers Unlimited Calls, Text, Data on Tier 1 Priority service on 1 of the top 3 Services, but with local support from MCS)
It's a initial special to savvy individuals to promote their new service.
Jump on it now before it's gone!
(Click Here to go straight to MCS USA to Order Yours)
I paid extra $30 to keep my old phone numbers with my new service.
Money Back Guarantee if not satisfied within 9 days of Activation and Use.
If you also want to stop paying an average of $50/month for 5 Years of No Phone Bills,
Grab It Now!
Details and To Order (Click Here to go straight to MCS USA to Order Yours)
Or visit my websites for description at http://www.CheapoMobile.com – spanish/espanol http://www.Celular-Barato.com
—————————————
Also new movie out by D'Souza – Death of a Nation – once a day at select theatres
https://tickets.deathofanationmovie.com/
——————————————————————-
Unlimited Strong Cell Phone Service $430 Prepaid 7 Years (<$6/mo)
(with Promo Code for Discount from $630)
I got it and it works great!!!! Strong Signals, Unlimited Voice, Text, Data*
http://www.CheapoCellular.com http://www.Celular-Barato.com
———————————————————————————————-
I've been working harder to improve my health, and to help others improve theirs.
My website http://www.LiveFoodHealing.com teaches the wonders of eating raw food.
Basics for Good Health: Raw Food, Lots of Water, Sun and Exercise, and key supplements.
Lately, I've been adding CBD from Hemp (no high but massive health benefits)
and Essential Oils like Black Seed OIl, Pumpkin Seed Oil, Tea Tree Oil, Clove Oil, etc
and I'm seeing wondrous results.
I have chosen to market the best Organic, Cold-Pressed Oils I've found.
You can read about them at http://www.TopHealthOils.com and http://www.BlackSeedOilInfo.com
Jim Krage
Jim go to http://www.JamesKrage.com (check out my many links to FREE Info)
http://www.AmericanLoanAudits.com
My newest websites: http://TopHealthOils.com/ http://www.HydrogenHealing.com
http://BlackSeedOilInfo.com http://www.PrebioticInfo.com http://UseOfHemp.com http://Howto-Help.com
http://LegalCBDExracts.com http://AlkalineWaterFree.com http://WantToLoseWeightFaster.com
http://Dental-Cavities.com http://massageoils365.com
——————————————————————————————
I love this quote!
Quote by Steve Jobs, Apple CEO, RIP
"Here's to the crazy ones, the misfits, the rebels, the troublemakers,
the round pegs in the square holes
… the ones who see things differently — they're not fond of rules
… You can quote them, disagree with them, glorify or vilify them,
but the only thing you can't do is ignore them because they change things
… they push the human race forward,
and while some may see them as the crazy ones, we see genius,
because the ones who are crazy enough to think that they can change the
world, are the ones who do."