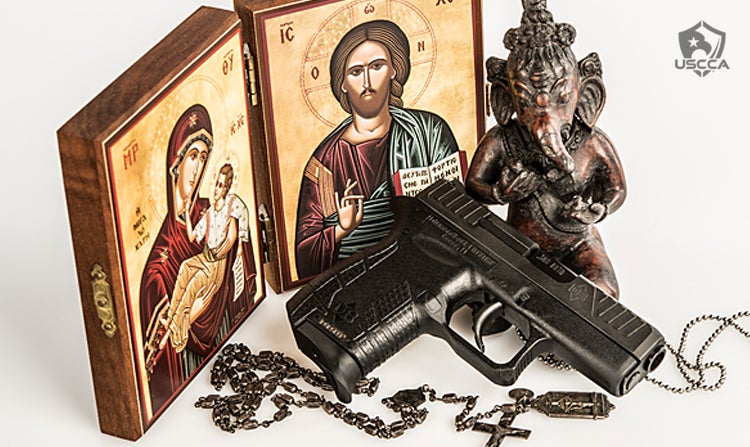 Guns in the News: Wisconsin Senate Bill 822
Rick Sapp – 02/29/2020
"This bill specifies that a person who has a license to carry a concealed weapon may possess a firearm in a place of worship, including on school grounds, unless the place of worship posts its grounds or building as provided in the trespassing laws."
As I write this, the Senate Committee on Insurance, Financial Services, Government Oversight and Courts held a public hearing on Senate Bill 822.
I am left to ask, "Who are these people — these 'legislators' — to tell me that I may or may not carry in my place of worship?" Our church in Florida hires two uniformed sheriff's deputies for services. Both, I'm sure, are excellent men and fine law enforcement officers. But one can usually find them just inside the entrance lobby, talking to one another. They're not outside, watching people get out of cars or surveying the crowd. They're not standing unobtrusively in the back of the sanctuary as latecomers filter in.
And thus, I'm wondering just what fundamental niche the deputies fill. Of course, their response to an emergency would be fast — significantly faster than cops screeching toward the church in patrol cars. Still, an evil person could empty several magazines before these deputies could stop him or her. Even though our deputies are in the lobby, a dozen people could die — and many more be wounded — and the shooter could escape out the back.
Under Some Circumstances
SB 822 affirms that law-abiding adults with a license to carry a firearm for self-defense, whether they are Wisconsin citizens or non-residents, may carry in places of worship, unless the property is specifically posted otherwise. According to the NRA, this bill ensures that decisions involving security, "are left up to individual places of worship rather than the government mandating a one-size-fits-all solution."
A bevy of legislators, led by Senator David Craig (R-28th District), sponsored the bill. Craig has tweeted, "Regardless of where your place of worship is, you should have every right to protect yourself just like every other person who worships in every other place in Wisconsin."
A sincere thank you to Senator Craig, but my question remains. The Second Amendment says, in part, "… the right of the people to keep and bear arms, shall not be infringed." It does not say "might not" or "under some circumstances" or "possibly not." It is clear.
WWJD
Because numerous shootings have taken place at centers of worship — Christian churches, Jewish synagogues, Sikh temples — how could the state presume to tell me where and when I might carry there?
If a church or business does not want responsibly armed citizens, it only has to say so. Starbucks coffee houses are "gun-free" zones, for example. You may assume, by definition, that only criminals or would-be criminals carry there.
So thank you Senator Craig and co-sponsors of Wisconsin SB 822. But this is still a world where the strong have a better chance of survival than the weak and meek. Mohammed led armies, and Jesus did not dial 911 when he found moneychangers and livestock vendors defiling the temple. He seized a whip and drove them out.
So would Mohammed or Jesus ask the state's permission to carry? I don't think so.
About Rick Sapp
Rick Sapp earned his Ph.D. in social anthropology after his time in the U.S. Army working for the 66th Military Intelligence Group, USAREUR, during the Soviet invasion of Czechoslovakia. Following his time in Paris, France, he worked for the U.S. Fish & Wildlife Service before turning to journalism and freelance writing. Along with being published in several newspapers and magazines, Rick has authored more than 50 books for a variety of publishers.