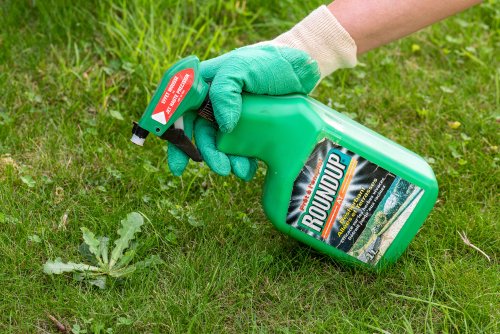 (Image from Shutterstock)
Bayer will pay up to $10.9B to resolve Roundup litigation
By Debra Cassens Weiss
June 24, 2020, 2:57 pm CDT
https://www.abajournal.com/news/article/bayer-will-pay-up-to-10.9b-to-resolve-roundup-litigation
Roundup weed killer
Image from Shutterstock.com.
Bayer AG has agreed to pay up to $10.9 billion to settle current and potentially future litigation contending that its Roundup weed killer causes cancer.
The settlement covers about 75% of 125,000 filed and still unfiled claims in state and federal courts, according to the New York Times, Reuters and a June 24 press release.
The company will pay up to $9.6 billion to resolve current litigation and another $1.25 billion to address potential future litigation. The settlement did not include any admission of liability.
Part of the future litigation fund will be used to create an expert science panel to determine whether the Roundup ingredient glyphosate may cause non-Hodgkin lymphoma and, if so, at what level it becomes dangerous. The findings will bind Bayer as well as the plaintiffs lawyers, according to the New York Times.
About 25,000 claims are not included in the settlement, but the plaintiffs may eventually join, according to lawyer Kenneth Feinberg, who spoke with the New York Times. Feinberg was a court-appointed mediator for the settlement talks.
Feinberg told the New York Times that court closures due to the COVID-19 pandemic may have helped lead to the settlement.
"The pandemic worked to the advantage of settlement because the threat of a scheduled trial was unavailable," Feinberg said.
The three Roundup cases that have gone to trial—resulting in verdicts for the plaintiffs—will continue through the appellate process and are not covered by the settlement. The highest verdict was $2 billion; it was reduced to $86.7 million
Roundup is made by Monsanto, which was acquired by Bayer in 2018.
Bayer also announced that it resolved most litigation over polychlorinated biphenyls, or PCB, exposure in water for $820 million and litigation over damage to crops caused by drift of the herbicide dicamba for up to $400 million, according to the press release.
See also:
ABAJournal.com: "Federal judge sanctions lead lawyer in Roundup trial for opening statement 'misconduct'"
ABAJournal.com: "Lawyer who successfully sued Roundup is accused of trying to extort $200M from unnamed company"
ABAJournal.com: "Judge refuses to block maker of Roundup weed killer from geofencing around courthouse"
ABAJournal.com: "Roundup weed killer was substantial factor in man's cancer, jurors find in second trial"
Does anyone believe that Bayer would pay that much, if Roundup was safe?