Tonight, I was reading articles on Officer.com. https://www.officer.com/features/honoring-the-fallen/news/21255899/nc-corrections-officer-dies-after-medical-emergency
There are numerous articles talking about officers and vaccine mandates, and such. One thing I found rather odd, is that numerous officers all over the country, have recently passed after experiencing "medical distress", or "medical emergency". The articles never come out and say what kind of medical distress, or medical emergency was or consisted of, or what brought on the "medical distress" or "medical emergency".
I find that rather odd. There are also stories about Officers that died after being shot, or ambushed, dragged by a car, or the like. They just never specify what the medical distress or medical emergency was.
One article stated "N.C. Corrections Officer Dies after Medical Emergency" it was on Feb. 7, 2022: "Corrections Officer Helen Mae Smith was returning to her post after an offender incident at the Pasquotank Correctional Institution in Elizabeth City when she began experiencing medical distress". Our hearts go out to her family, and we pray for their loss. https://www.officer.com/features/honoring-the-fallen/news/21255899/nc-corrections-officer-dies-after-medical-emergency
Another one: "Calif. Sheriff's Deputy Dies after Medical Emergency During Stop" Feb. 15, 2022 "Alameda County Deputy Aubrey Phillips, a five-year veteran with the department, was conducting a traffic stop when she suffered "a severe and acute medical emergency." We pray for the family and their loss. https://www.officer.com/features/honoring-the-fallen/news/21256892/calif-sheriffs-deputy-dies-after-medical-emergency
There were officers killed in auto accidents, when there weren't high speed chases or anything. It's like Officers just dying while driving.
"Fla. Law Enforcement Officer Dies in On-Duty Interstate Collision" Feb. 14, 2022. "Officer James McWhorter of the Florida Department of Agriculture and Consumer Services' Law Enforcement Division was struck by a pickup truck while crossing Interstate 95 in Nassau County." "McWhorter, 31, had been with the agency since January 2019. He is survived by his fiancée and four children.". We will keep his family in our prayers and send condolences to his friends and family.
https://www.officer.com/features/honoring-the-fallen/video/21256618/fla-le-officer-dies-in-onduty-interstate-collision
This one, they didn't say anything about a crash really: "Mich. Police Officer Killed in On-Duty Crash" Feb. 6, 2022
Capt. Collin Birnie was a Flint police officer for over 25 years, and he "was a respected leader in our community and beloved by the members of our agency," the department said. https://www.officer.com/features/honoring-the-fallen/news/21255829/mich-police-officer-killed-in-onduty-crash They call it a crash, but don't sat anything about what hit him, or what he hit.
I know I had been seeing articles about pilots killing over while flying, after having had a vaccine booster. But there are a lot of these officers dying, without any explanations. You know if they are vaccine related, the authorities, especially the ones firing officers over vaccine mandates. are never going to let that come out. All over the US, there are officers and first responders filing cases against the mandates, and many being fired for not complying.
It really is time to quit with the mandate bullshit. Everyone knows it was a plannedemic to genocide a lot of us off of the planet. The idilites want to merge with AI, and they are attempting to terraform the earth for whatever subspecies they plan to turn into or what have you. It all depends on whether one thinks they are terraforming so that aliens will be better suited here than humans, and whether or not you believe that the transhumans won't need to breath the same amount of air that we currently need.
Whatever, that is for another day, but for whatever reason, they need to take their friggin masks, shoot themselves up with their own vaccines, and leave the rest of us the hell alone.
A Deadly Year for Law Enforcement
Feb. 11, 2022
https://www.officer.com/features/honoring-the-fallen/article/21252314/a-deadly-year-for-law-enforcement
The founding CEO of the National Law Enforcement Officers Memorial Fund reflects on the sacrifices officers made in 2021.
Officer Media Group File Photo, Reposted here pursuant to Fair Use doctrine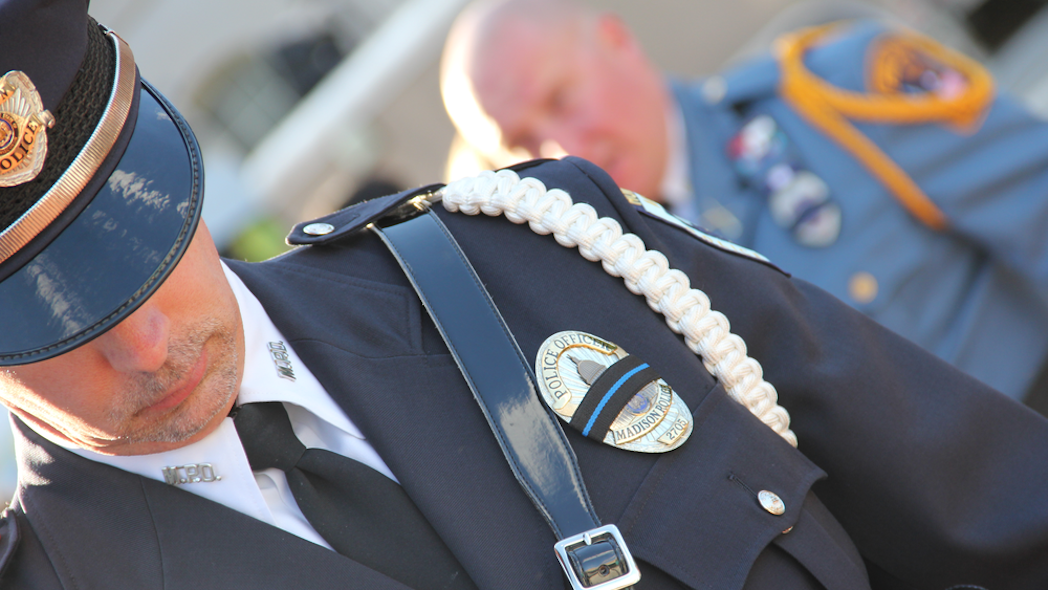 Having spent 34 years as the founding CEO of the National Law Enforcement Officers Memorial Fund, I have dedicated most of my professional career honoring law enforcement's fallen heroes and working to make it safer for those who continue to serve. That is why it saddens me so deeply to know that 2021 was the deadliest year ever in American policing history.
To put it in perspective, just consider that prior to 2021 the deadliest year ever for law enforcement was 1930, when 312 officers died in the line of duty. According to preliminary statistics reported by the National Law Enforcement Officers Memorial Fund (NLEOMF), 458 officers died in the line of duty in 2021 (47% more than died in 1930). While the final number may change a bit after further review, one thing is certain—2021 was the darkest and most tragic year in law enforcement history.
While it appears that, for the second year in a row, more officers died in the line of duty from COVID than any other cause, there were significant increases in all categories of officer fatalities last year. The number of officers killed by gunfire (62) rose by 38% over the total in 2020; traffic-related deaths (58) also increased by 38%; and the "other" category of death (338), which includes COVID and other job-related illnesses, jumped by 63% over the 2020 total. The overall preliminary officer fatality figure for 2021 (458) represents a 55% increase over the 295 officers who died in the line of duty in 2020.
The National Fraternal Order of Police tracks the number of officers shot (fatal and non- fatal), and the circumstances of those shootings. They have reported that 346 officers were shot in the line of duty nationwide in 2021, including 130 officers who were shot in 103 ambush-style attacks (a 115% increase from 2020).
Police retirements have jumped 45% over the past year and resignations are up 18%. We now have the fewest number of law enforcement officers on a per resident basis in the last 25 years. The fact that there are fewer officers, with less experience, to prevent violent crime and serve as back-up to other officers in harm's way makes an officer's job today more dangerous than ever.
With all of this heartbreaking and alarming news as backdrop, it is shameful and despicable knowing that some elected officials at the federal, state and local level of government continue to push for "defunding the police" and preventing agencies from getting the personnel, equipment, training and technology necessary for officer safety and public safety.
Earlier this year, Scott Wolfe, Ph.D., an associate professor at Michigan State University's School of Criminal Justice, declared that the "defund" movement has "emboldened" criminals who do not view police as legitimate. He added that "many portions of the population have gone too far" in their criticism of law enforcement. I fully agree. Our elected officials and community activists need to understand that words do matter. By questioning the value of policing and vilifying the entire profession, they are encouraging criminals to resist, assault and even kill our officers. Look no further than the dramatic surge in ambush-style attacks on our officers this past year as all the proof needed.
Here is a recap of 2021. More law enforcement officers died in the line of duty than ever before. At least 16 major U.S. cities set all-time homicide records. The ranks of law enforcement have dropped to their lowest per capita total than at any time in the last quarter century. Veteran leaders and rank-and-file officers are leaving the profession in droves and recruitment is down dramatically. Clearly, the "defund," anti-law enforcement movement has been a colossal failure and created an officer safety and public safety crisis. It must be stopped. The lives of our citizens and our policing professionals depend on it.
About the Author
Craig W. Floyd is the Founding CEO of Citizens Behind the Badge (behindbadge.org), and is the Founding CEO Emeritus of the National Law Enforcement Officers Memorial Fund, where he led the effort to build the National Law Enforcement Officers Memorial and the National Law Enforcement Museum.
Recently Fallen Heroes
Here are just some of the brave officers who made the ultimate sacrifice in late December 2021 and early January 2022:
Police Officer Keona Holley
Baltimore City (MD) Police Department
End of Watch: Dec. 23, 2021
Police Officer Keona Holley succumbed to gunshot wounds sustained a week earlier while was sitting in her patrol vehicle around 1:30 am when two men approached from behind and opened fire, hitting her multiple times.
Agent José Ferrer-Pabón
Puerto Rico Police Department
End of Watch: Dec. 24, 2021
Agent José Ferrer-Pabón was killed in a vehicle crash on PR-110 near Rafael Hernandez Airport in Aguadilla, Puerto Rico, at about 12:30 am. He was returning to the station at the end of his shift when an oncoming vehicle traveling at a high rate of speed lost control and struck his patrol car head-on. Agent Ferrer-Pabón and both occupants of the other vehicle were killed in the collision.
Deputy Sheriff Sean Riley
Wayne County (IL) Sheriff's Office
End of Watch: Dec. 29, 2021
Deputy Sheriff Sean Riley was shot and killed after responding to assist a motorist on a highway when a suspect stole his patrol car before abandoning it after he carjacked and shot a citizen.
Police Officer Shane Bartek
Cleveland (Ohio) Division of Police
End of Watch: Dec. 31, 2021
Police Officer Shane Bartek was shot and killed while attempting to take action when a woman attempted to carjack him in the parking lot of an apartment complex. He tired to disarm the woman but was shot twice during the ensuing struggle.
Sergeant Marlene Roberta Rittmanic
Bradley Police (IL) Department
End of Watch: Dec. 30, 2021
Sergeant Marlene Rittmanic was shot and killed as she and another officer investigated a noise complaint at a Comfort Inn when two occupants attacked and shot both officers.
Trooper John Sumter Horton
North Carolina Highway Patrol
End of Watch: Jan. 3, 2022
Trooper John Horton was struck and killed by a patrol car while conducting a traffic stop when another trooper arriving on the scene to back him up lost control of his patrol car and collided with Horton's patrol car, which was then pushed into him and the detained subject.
Our hearts and prayers go out to all Officers, and families of Officers who lost their lives, whether in the line of duty or not. We would be lost without them, and we appreciate their service to the communities of this country. May God Always Hold Them In The Palm of His Hand!